Looks like at least a few days of mid to upper 90s this week.  I made it over to A Taste Of Cambridge on Saturday and had wonderful time. My favorite dish was the
Crab Gazpacho
from the
Clearview an Horns Point
.  A close second was the
crab salad on a cucumber slice
offered by
Jimmies and Sooks
– both of these dishes exemplified Eastern Shore summer cooking! I also got introduced to the
Orange Crush
– you don't want to drink too many of these in hot weather (believe me!) Back to the Eastbay today – still
on a tight schedule
. There is still of lot of detailing going on such as last minute polishing. This boat has never looked so good.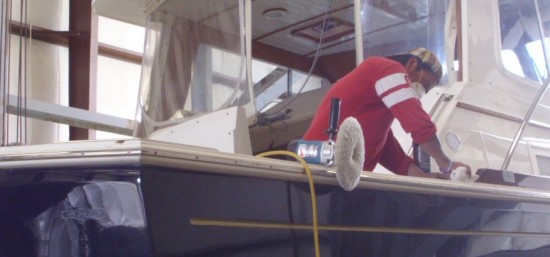 We also had to touch up all the thru hulls on the waterline.
Bronze is not your best surface for paint adhesion
. The Awlgrip will last as long as anything else but probably no longer.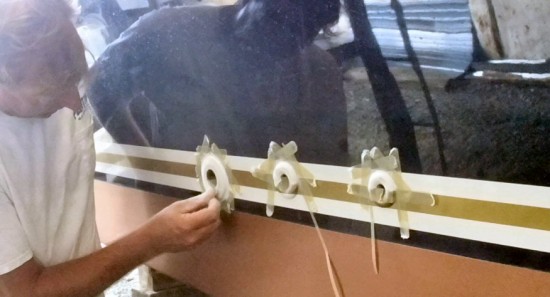 The big push is to get the new electronics in. It was
like Christmas morning
when they arrived last week with John and Pat investigating the contents of every box.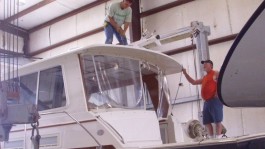 The swim platform is now permanently installed and Rumsey was knocking off the bungs this morning.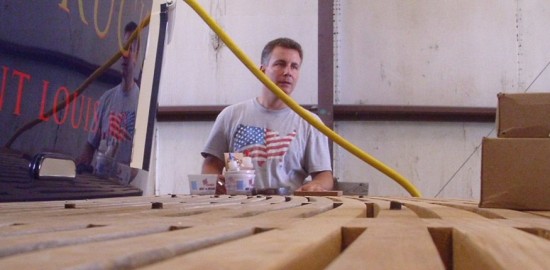 Here is the under platform ladder all installed now.