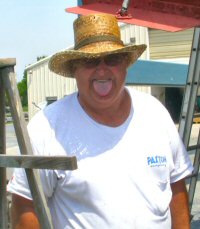 The t
emperatures continue to climb
and my mind moves forward to beer and the pool over the weekend. That keeps me going.  John has returned to the country as of yesterday and will only be here a few days before taking another bit of time away.  I wanted to take a look at some of his photos but he has a massive chip in his camera and very high resolution so it bogs my computer down to get pictures from it. I'm sure they are nice photos! We took a listing on a very nice
2000 Eastbay 38 Express
yesterday. We sold this boat new to a buyer in Florida who sold it to the current owner. This boat had a lot of custom work done here when originally sold and has had all the recommended maintenance (and well beyond).  I should have a listing up later today.
One of the survey items on the Albin was the
steel key in the prop shaft
which meant we needed to remove the prop.  It had never been removed before and was stuck like glue. We ended up heating it with the torch and using a bit of brute force since none of our normal methods worked. We did get it off and inserted the brass key as recommended.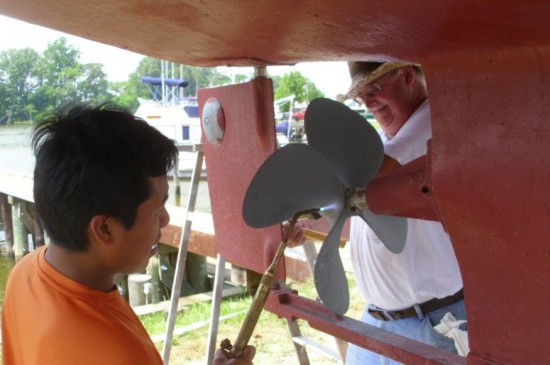 On the GB42, we got the structural foam bonded in the bulkhead. Later today we will be applying a layer of glass.
This area will never rot again
!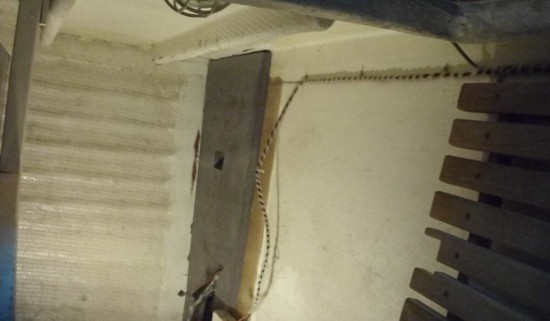 We were also installing new exhaust hose yesterday. Getting 8″ hose on the transom fittings is not too easy at times. On this occasion we used a
bit of mechanical leverage
to get it on by using a ratcheting clamp tied to a rope tied to one of the supports in the building. This did the trick.