We got about 4″ of snow last night on top of the left overs from the other day.  It looks nice from inside looking out — not so much if you are actually out there. We have limited attendance today — primarily the ones who did not come in yesterday.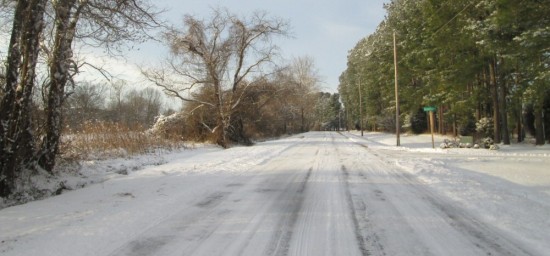 Trappe Landing Road above.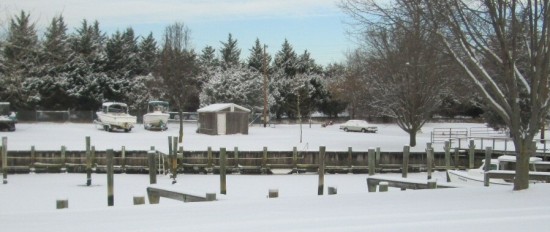 Carlos was getting pysched to go outside and continue on with shaft cleaning and bottom prep.  Just shoveling in front of the doors drove him in to get warmed up.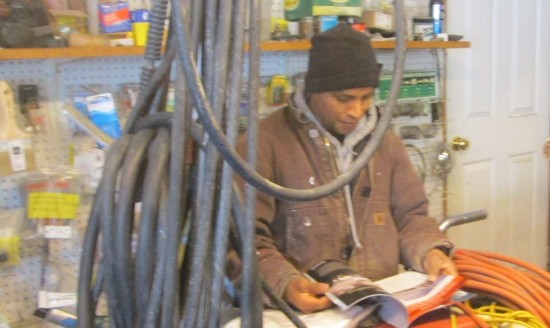 Izzy found the sweet spot. This transom door was conveniently sitting very close to the heater — which was the perfect spot to be today!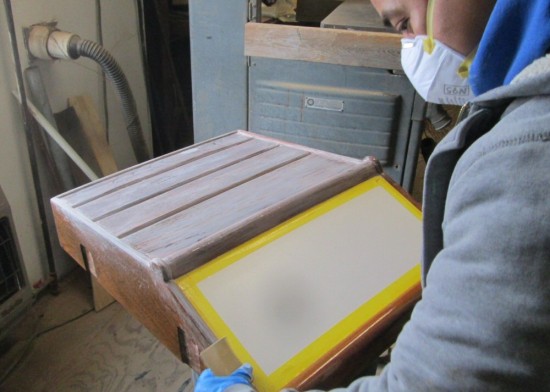 I was telling a customer that we appreciate a cold and snowy winter every few years (well not me personally) since it solidifies and justifies a client's decision to winter over with us in one of our buildings. If every winter was a mild one it would hurt our storage business.  Don't you feel better that your boat is inside this year?
From The Classified Files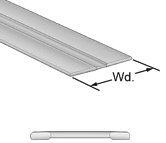 If you have a Grand Banks with the white plastic piano hinge on the front windows you are probably ready for some. We could sell you some but to be honest it is not cost-effective for us to be in the small parts business, too little profit for the amount of time invested in it. Order some at
McMaster-Carr
.
Deep Freeze
Deep Freeze is a limited time only tribute to the extreme cold weather!
httpv://youtu.be/cZ7COwPnxm8
By the way, the counselor never told me minion was a career choice.