Another beautiful day here in paradise. Still a lot going on and much to accomplish. We will be starting a couple of deck jobs when things get caught up a bit and perhaps another headliner replacement. The Albin 28 had everything repaired that showed up on the survey so that deal is done. 
We could use a couple of more boat sales!
The deck job actually got fully done in one day and looks great. We talked the customer into using a standard color instead of mixing custom colors so future minor touch ups could be done with some assurance of color match. Plus the new color is a better contrast to the rest of the deck and is very
warm and appealing
.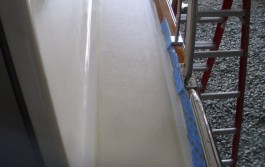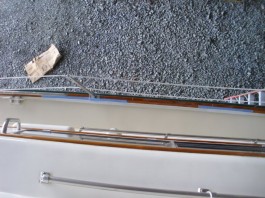 While working in the aft cabin of the 42 we just noticed a
veneer problem
which emanated from the rot problem in the lazarette.  We just don't have time to re-veneer this section to get this boat out on time so we are just making a trim piece to cover. In fact, it is so out of the way I doubt if more would ever be necessary.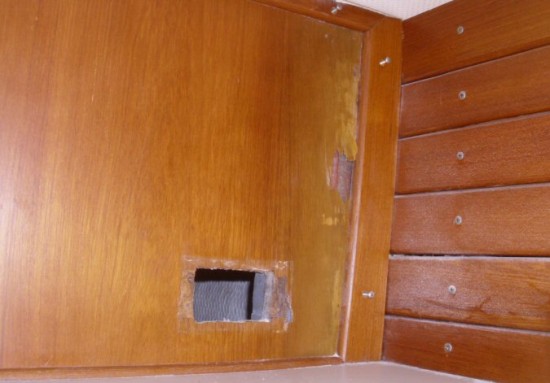 Another item on the work order was to rebed the deck fills. It is a good thing we did because as you can see, there is hardly any bedding in them and none on the flange. The one, however, had quite a bit of silicone on it.
Silicone will not stick to teak!
Use something with a bit of adhesive for jobs like this. There was also a hump on the deck where the teak had been sanded around the fills. It was imperative to
have these areas totally flat
for a perfect seal.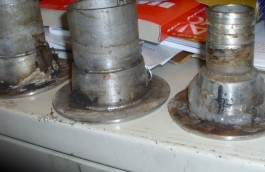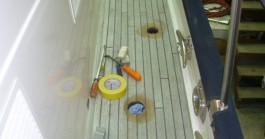 The trim tab indicators did not work on the boat when the current owner purchased it. The Boat Leveler customer service told us that they
don't make parts for the indicators that old any more
and we would have to put a whole new indicator system in. That is on hold for now as well.
We hauled a Luhrs 30 yesterday which had not been out of the water for 4 years. I had figured it would be bad and I certainly wasn't wrong. There evidence of some (well, a lot of)
corrosion on the rudder, strut and propeller
.  This may be a owner job but I suspect he will want us to undertake it. You can read more about corrosion on underwater gear at the
Wildcat Propeller website
.