Still cold here — and yes there were actual snow flakes out there yesterday and hopefully that will be the end of that! It is supposed to be in the lower 50's for the weekend. We are still operating with a duo-crew here and the rest of the crew is in Oxford. I wish someone would share some photos so I could have something for the blog. I know they are stripping the varnish on a Grand Banks 46. I also suspect they are doing some work on the Burger. Other than that, I got nuthin'.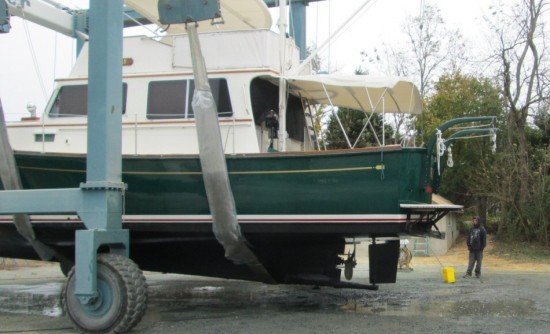 Outsourced Content
Not to leave you with nothing to read, I am reprinting without permission (rwop) an article from the
Boat Trader Blog
, cleverly called "water blogged".
These Are a Few of My Favorite Boat Tools
Now that my tool box is well stocked, it's getting difficult to take fulfilling trips to Sears. When a mechanical problem presents itself, it's less of a hassle these days. Instead of having to leave the house in the middle of a job to buy the tool I need, I'm finding lately that I have nearly every tool I need to get the job done. Now I just sort of wander around the tool department looking for something that catches my eye.
It's like going to the record store — remember those? — and not being able to recall what you came in for. It's a bit sad. Then again, not really. Of the tools I have added since
my last tool blog
, I've found myself reaching for a couple of them more often than others. To borrow and twist a phrase from Julie Andrews, these are a few of my favorite tools.
Gear Wrenches
Where have these been all my life? Box wrenches that ratchet! They have boxed and open ends, and they are as thin as a regular box wrench. I have been cursing and dreaming of these since I was 12. They are great for use on everything where you'd use a ratchet and socket. They take up less space, they're lighter and easier to spin than a ratchet, and they have small teeth inside, so they're great for spots where you can only spin the wrench a fraction of a turn. In fact, since I have had these, I rarely break out the socket set anymore because there is no need.
Hand Mallet
I went so long without a nice hand mallet, I forgot how handy they are. I was removing an aluminum intake manifold that some hack had installed using silicone sealer on every surface. Heck, it might have been Super Glue, as stuck as it was. Even after I got all the bolts out, I couldn't pull it off. I got out the mallet, tapped it — OK, smacked it pretty hard — and I was able to move forward with the rest of the job. I couldn't use a hammer in that instance because it might have damaged the intake, but a mallet was just the ticket, as it often is.
Hand Sledge
Affectionately known as the BFH — consult the Urban Dictionary for definition — the hand sledge serves a lot of purposes. I should have bought one years ago. It comes in handy when the mallet falls short, or when patience runs out. It's as much about fixing as it is about destroying. Grrrrr. I once had a blowout on the boat trailer, and the tire flew apart and beat the daylights out of the fender. It took a hand sledge to whack it back into shape so I could continue my trip. Now I don't leave home without it.
R140 Quarter-Inch-Drive Ingersoll Rand Electric Ratchet
I already had an Ingersoll-Rand three-eighths-inch electric ratchet and loved it. I haven't used my pneumatic ratchet since I got it. However, like the pneumatic, it was large and bulky, so I ponied up and bought the quarter-inch drive model, the R140, and I've been getting a lot of use out of it. It's smaller and lighter and can do things the three-eighths-inch cannot. It has less power, so you often have to do the heavy work with a box wrench, but this little ratchet is like the little engine that could. It thinks it can.