My daily views have increased about 20% over the past few days. I may to up the ante on content to keep people coming back. Maybe I should give something away? The GB42 is destined for the
Trawlerfest Boat Show
Sept. 24th and have a tonne of work to do on this boat to have it show-ready. If you are looking for a nice older GB, this would be a good place to start looking. The largest job is the total varnish make-over.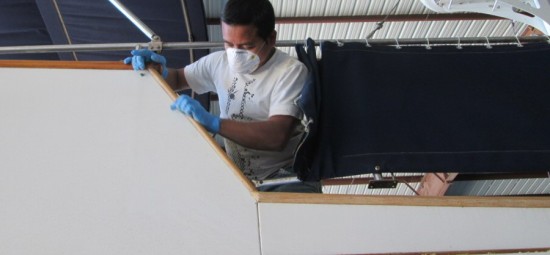 This is a case where Izzy is justified wearing a dust mask, this job creates some serious dust. Teak dust, being an oily wood, is quite the irritant to the lungs.
Always
wear a mask when you sand yours.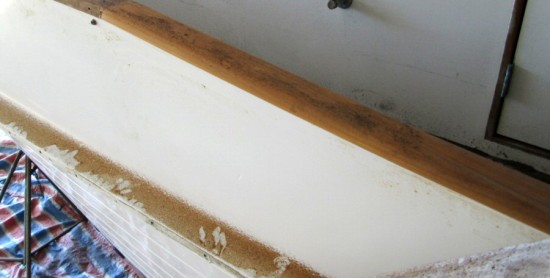 The transom had quite a bit of water damage, as transoms often do. The best bet would be to remove it, fill all the holes and paint or gel coat it but we don't have time to do that. Colin assures me he can get the black out by drying the water out with the heat gun and maybe using a bit of wood bleach.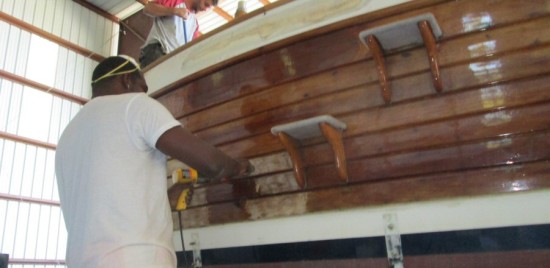 The hand rails are much easier to do while off the boat. You can set them at a comfortable level — and comfort = better job!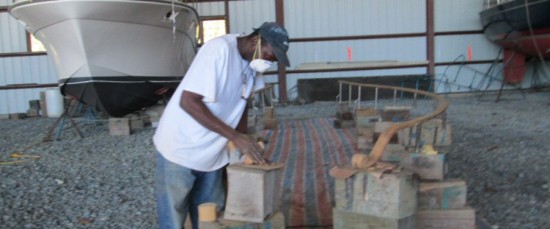 Since we took all the rub strips off the boat, we have to clean up all the old bedding. This was probably as old as the boat and quite hard and brittle. You can't re-bed over it so it had to come off. It does have the advantage of being able to compound over it bringing the new shine below the strips.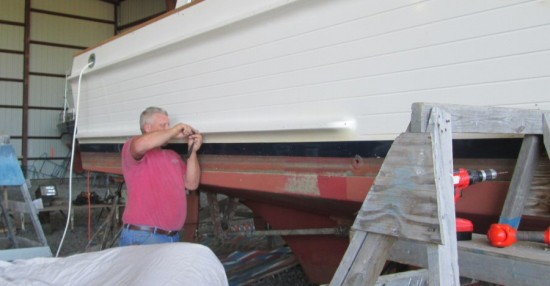 Over in the pit
Justin did quite the job prepping for the concrete. We will have a sump in the center and an oil line (which you may see sticking up). Of course a lot of people had to stop working to watch this since it was a deviation from the normal routine.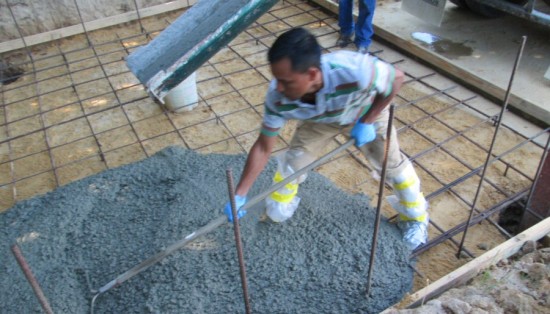 Of course no one had the foresight to bring boots and as they say,  make-do is still doing. (well I say it anyway)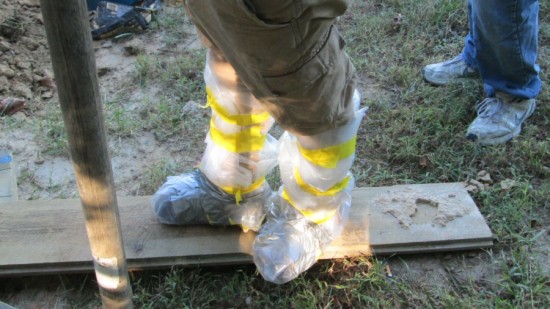 The
Chesapeake Grand Banks Owner's Association
is having their annual rendezvous beginning today and it looks like perfect weather for them. If you aren't familiar with the group, you can
visit their website
.