I hadn't posted anything new in the
Dickerson Service Log
for quite a while and decided to do a short article about restoring the finish on the Albin 28 on Monday afternoon. By Tuesday morning I had gotten a very nice email from the Senior Product manager of Awlgrip asking for my permission to link to the article from the
Awlgrip Facebook page
. Well, hell yeah – any promotion is good promotion. I just can't figure out how he found it so quickly. Thank you Google!  If you are a Facebook user, give it a
thumbs up here.
It's a slow pace over here now compared to the breakneck speed we had been working through the spring. With no pressing jobs we can concentrate on small jobs and follow through with things that will need to be done to sell boats. We did have to finish up the trailer and are waiting for the parts to come in this morning.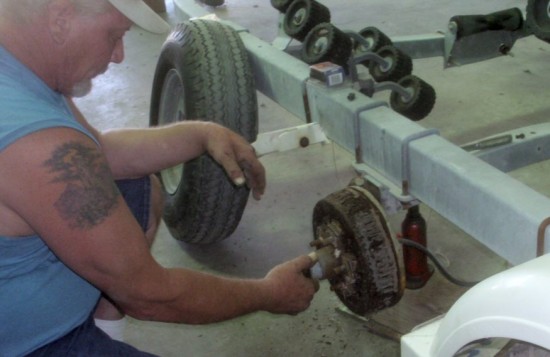 We started on a Legacy quite a while back that is heading to the brokerage department and now we have time to get back to that. It is faired and has been shot with Awlgrip High Build primer so some wet sanding is in order. Angus and Izzy took some time off from the GB46 and the EB38 in Oxford to do a bit of sanding to get this ready to shoot – hopefully by the end of this week or early next week. Boat gotta go!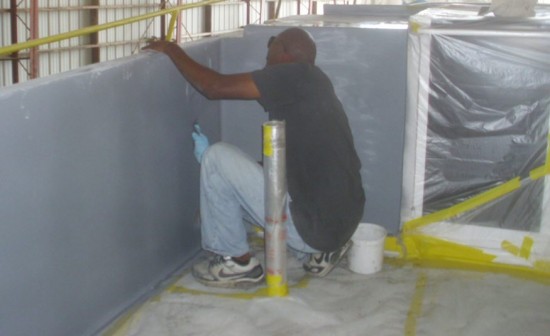 The same boat had the transmission removed for rebuilding and it has been taking up bench space for a while. We still needed to clean it up before reinstalling in the boat. We were able to get to that late yesterday and should have it ready to go back into the boat today.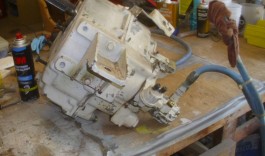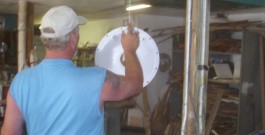 John's Star Boat is high on the priority list right now – evidently he has some sort of plans for it. I introduced Carlos to the concept of wet sanding instead of compounding. It's not like we were going to
hurt
the gelcoat on this old boat. He was elated with the results.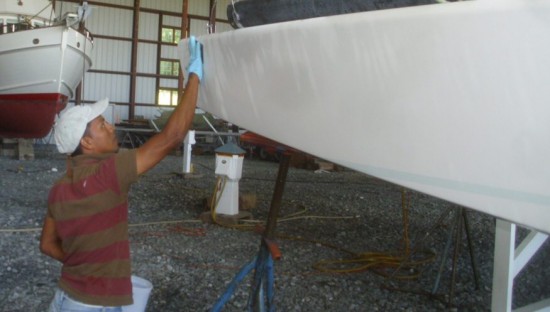 They did follow up with some light compounding and Willy must have been bored because I'm pretty sure I've never seen him use a buffer before.