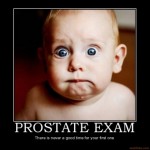 That's right, I'm missing in action today – a rare full day off to care of personal things like taxes and my annual physical. I'm pretty sure they will be able to survive without me but I still feel
a bit
guilty about not being in my usual spot. Since I won't be there this morning I can't show much in the way of what is going on but instead have other items to offer.
From the DIY Guy:
As I mentioned yesterday, the guy who bought the GB46 is pretty handy and has some great ideas. Yesterday he was installing a central vacuum system in the boat. We had done full full blown systems but he found a nice little self-contained system that would fit nicely below the settee. You can see more about this system at the
Dirt Devil
website.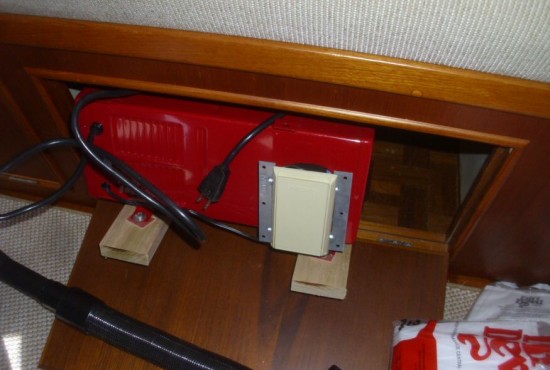 We make these instrument boxes all the time out of King Starboard but he just happened to make this one. This is a project that anyone with a fair knowledge of shop tools can do. Just throw in a little bit of imagination and you can do something to accent a otherwise plain box. You can pick up the material from your local West Marine or order on line at the
West Marine
website.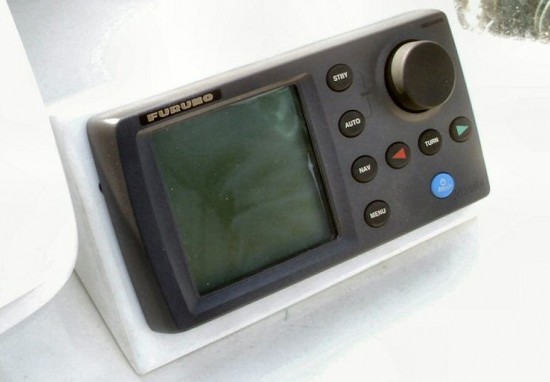 Last week I showed you a nice stainless swivel lamp that he had installed in the main cabin and yesterday he was installing them over the berth in the stateroom. There is also a shot of the smaller trim ring from the lamps he is replacing. This lamp is available from
Imtra
. They have many other styles to pick from and take a look through the clearance section as they often have some good bargains there.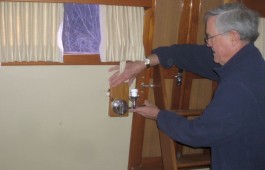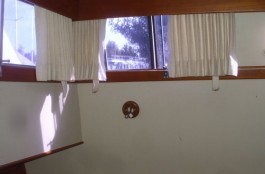 The DIY guy has also agreed to fabricate solid teak panels to do the inside of the older GB's with the ugly teak formica panels. I showed his doors here a few weeks ago and they look gorgeous. As well as hiring us to install the panels, we are contemplating doing a kit that we can sell by mail order if it would be of interest. Contact me if you would like more information.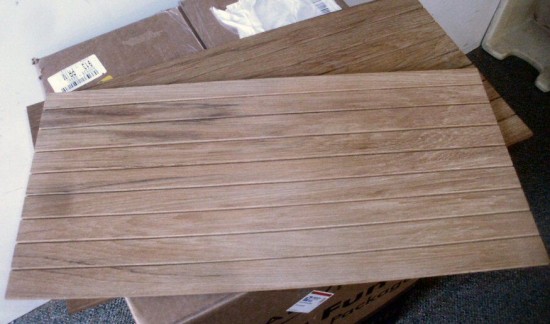 Anything Can Happen Friday
In the DIY vein I am posting a video on installing snap on curtains in your boat. I still have my request out for projects you have done for your boat for me to post here. Send me a photo and description to alanw@oya.com.
httpv://youtu.be/GQsXDMQ9DQY