Not that far from summer now! A few more weeks of spring stress and we can think about having cool drinks beside the pool (or boating if you are of that mindset — which most of you are!) But in the meantime we continue to live with daily deadlines and obligations. We did have a successful sea trial on the boat with the engine mount replacements. No vibrations were evident.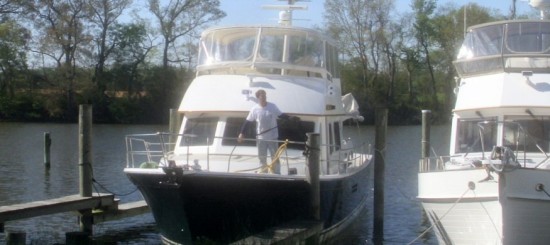 And right next to that was a little J boat going in for setting the mast before it is off to start the
Oxford Amateur Racing Series
  this weekend.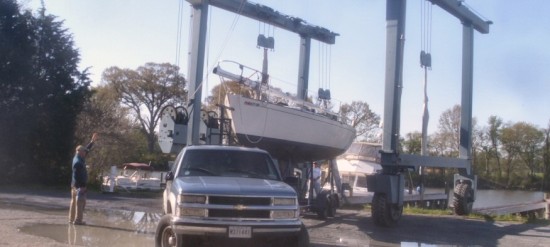 Our polish finally came in — just in time for less wet weather. We have only found one source for this product and it seems to take a long time to get. I ordered a case and got one gallon. Fortunately it doesn't take much of the polish to do a boat whereas it takes a ton of the compound which costs 4 times as much!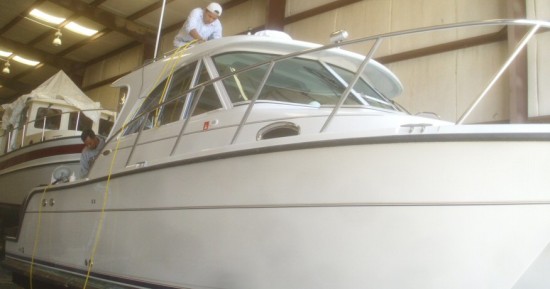 Kevin got all his striping laid out on the Trawlercat yesterday and sanded it in preparation for the primer.  Note all the Pettit tie coat on the bottom where any suspect flaking was observed.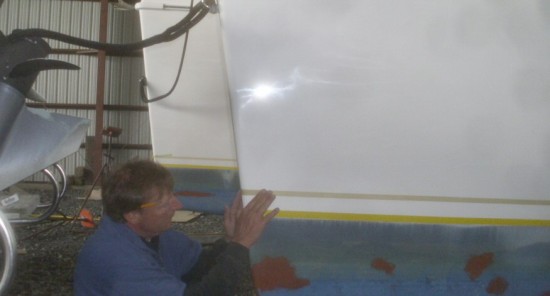 We had a customer who asked me to get him a zinc for his sailboat. This was the oddest zinc I have seen but by some stroke of luck I found one back in the stock room. After a little (lot) of web searching found out it was a Vetus zincs made for Beneteau –  which is a bit odd since this boat is not a Beneteau.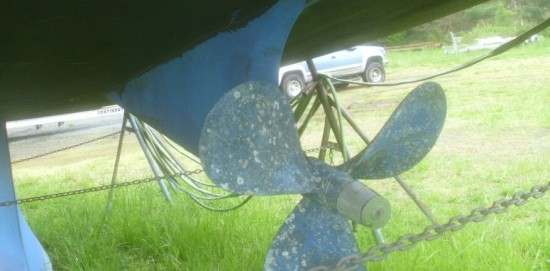 May 1
On this day. 2011
: President Obama announced that the U.S. had killed Osama bin Laden — the leader of al-Qaeda and perpetrator of the September 11, 2001 terror attacks on New York and Washington, D.C. Operation Neptune Spear, as the special forces operation that killed bin Laden was called, was among the most daring military missions in U.S. history. Months in the planning, the operation — conducted by Navy SEALS — was carried out in a Central Intelligence Agency-less mission. The raid on bin Laden's compound in Abbottabad, Pakistan was launched from Afghanistan on a moonless night; after the raid, U.S. forces took bin Laden's body to Afghanistan for identification, then buried it at sea within 24 hours of his death.
Mid-Week Pick Me Up
httpv://www.youtube.com/watch?v=Fq-muLRSuAw&feature=share&list=PL1DB2735F9BA65C2D