It has been a very productive week but thank goodness it's over. The shafts and couplings we have been waiting for,
for what seems like forever
, finally got done and we rushed over to Delaware to pick them up.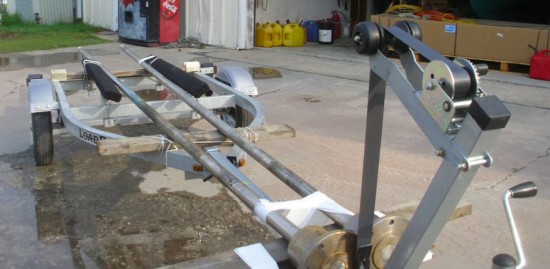 All the hardware that was removed for varnish work was reinstalled yesterday on the Eastbay. We had hoped to have the dinghy lift completed yesterday as well but there was an alignment issue with the holes on the stainless back up plates. We had to run them over the machine shop to get them to fit right.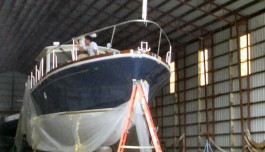 And of interest to some of you would be more information on the
soft patch removal o
n the Eastbay 43. It is good that that is in there for removing engines, as some manufacturers don't think that far ahead, but it is far from an easy job to get one out. The first step is to remove the molded seat/lockers. This reveals the seams below.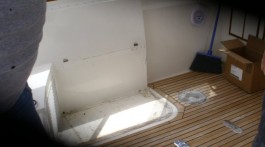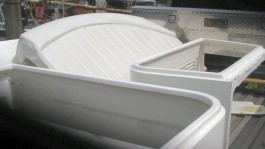 Next the rubber needs to be cut from the teak along where the seam is. That's the easy part! Cutting the
semi-permanent seam
is more of a task. We were using our Fein tool but it gave up the ghost about 10% into the job. We tried the jigsaw with less than satisfactory results. We ended up cutting it the rest of the way out with my $35 Fein clone (
The Genesis
). Worked great.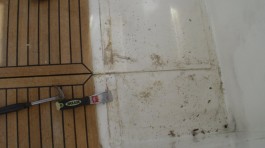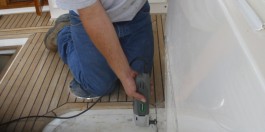 It took
2 guys 8 hours
to get this out. Part of that time is attributed to disconnecting and removing the hydraulic hatch lift and disconnecting the multiple attachments beneath the soft patch – hose and wire connectors, etc. By 4:45 the soft patch was standing up and the engine was ready for CAT to remove.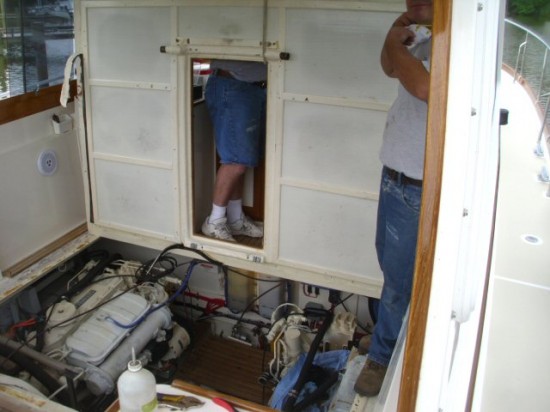 Anything Can Happen Friday
I mentioned my Fein clone tool, the Genesis, in today's post.
Everyone needs one
as far as I can tell. I didn't know I needed on until I got it. As a comparison:
Fein Multimaster
Genesis
Price
Approx $250
$34
Blades
Unique Blade Assortment
Includes adapter to use Fein blades
Repair Centers
Few Available
Hell, just buy a new one
Parts Availability
Online only, Expensive
Hell, just buy a new one
Buy one at Amazon – Tell 'em I sent you!

First place award for the WORST crab cake I have ever (not) eaten goes to the
Masthead at Pier Street
over in Oxford. It was about 80% filler and I am not totally sure the seafood in it was actually crab – it tasted more like fish, although they got quite offended when I told them that.  There were also steamed crabs that were hot on the outside and refrigerator cold on the inside – not quite sure how that managed that feat.