I felt absolutely stress-free for the last week. Nothing like the beach to catch up on some reading, dining and plenty of cold beer. Of course the first 10 minutes back reminded me of why we need vacations from work. Plus in addition to the regular grind I have a weeks worth of grind to catch up on. I'll need another vacation to de-stress me from that. I don't have much time to take photos this morning – just what I could catch in a quick walk-about. Evidently a lot of work went on over in Oxford last week while I was gone. We installed some Garmin wind instruments in a Grand Banks, replaced a water pump in a generator on another, replaced some Vacuflush bowl gaskets, installed a TV system and other jobs too numerous to mention. I do have some boring stuff for the morning blog. The paint job doesn't look much different but I understand the boot has now been painted and is masked over. The 545 has been sprayed over the high build and the final wet sanding is being done before spraying the top coat – or the cove stripe, I'm not quite sure which.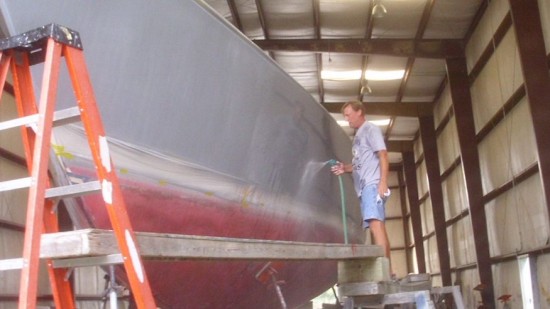 And Angus is still building the varnish on the transom of the GB46. Each coat takes a good sanding in between to reach the mirror-flat finish we want to achieve.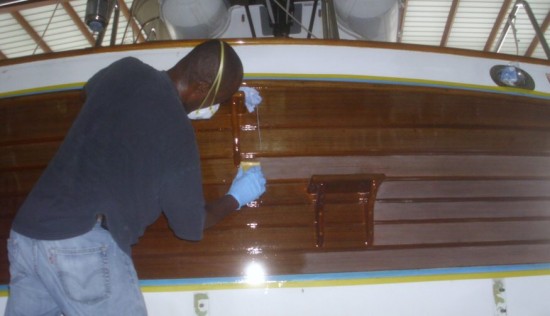 We also painted the brackets for the swim platform repair we did. With it off the boat it just made good sense to do the brackets at the same time. We used the Interlux epoxy primer and coated with Interlux Briteside enamel for a top coat.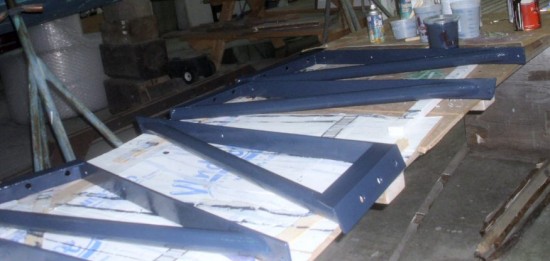 Also Pat got the jet skis finished up and spent some time on trailer repairs. The trailer just wasn't safe the way it was set up.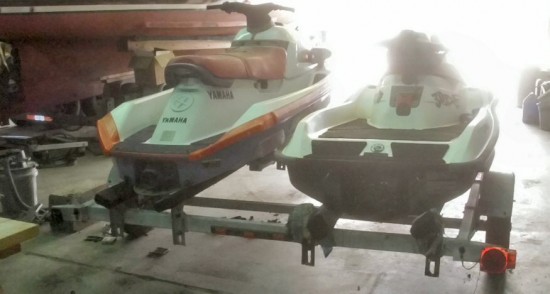 From today's blog it looks like I didn't miss any time at all. Maybe I need to go away again and see if different stuff is going on when I get back!