We had 2 people show up for work today – that looks like a hurricane party to me! We won't do any hauling in these miserable conditions. We have a bit of canvas to remove and we do get to listen to John expound on the storm – and
that's just good entertainment
. If we had any beer left from Friday night, it would be perfect. (Thanks Torsten!)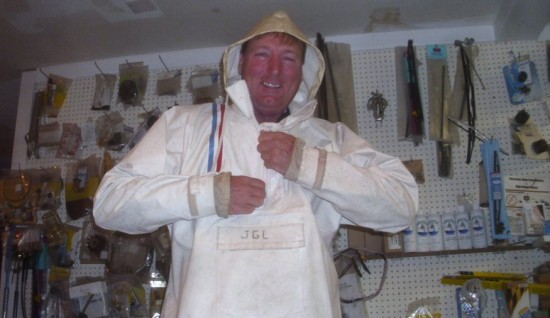 John wanted me to provide this weather update, but I'm guessing you have better sources for weather news. But in the spirit of cooperation, here you go: 
Hurricane info from Commander's Watch.
Here in Trappe
we have had over 24 hours of solid rain. The wind is just now starting to pick up. The wiser of us stayed home. John alluded to leaving early but that will most likely change several times throughout the day.  So far all the boats are safe and sound. They hauled all day on Saturday and moved more boats into our marina on Sunday where the docks are better protected than out on the river.  John has predicted that tides wouldn't be that high with this storm.  I know we will see some flooding in low lying areas but we are as prepared as we can be.
Willy Update
Will is as far from this storm as he wants to be. He may not even know about it (or care). Here is a
posting from Willy in New Mexico
.
 Stay home, be safe!
httpv://youtu.be/kgpF5VjWO34