I made no resolutions so I don't have to worrying about failing on that count. The vacation was predictably short and I spent almost all my free time out in the shop and now I have the longing to be there now. You talk about low-pressure environments — that was it.  I am thinking a propane heater would increase my enjoyment considerably. A few people must have forgotten that this was the day we come back to work since we had 3 no-shows today. Maybe they learned that from Willy. It seems like we are off to a slow start today as everyone else gets back into the swing of things. Amazingly, Kevin was among the yes-shows and is starting on the bow thruster installation this morning. Since the first phase includes a lot of measuring and planning, there are no interesting photos this early.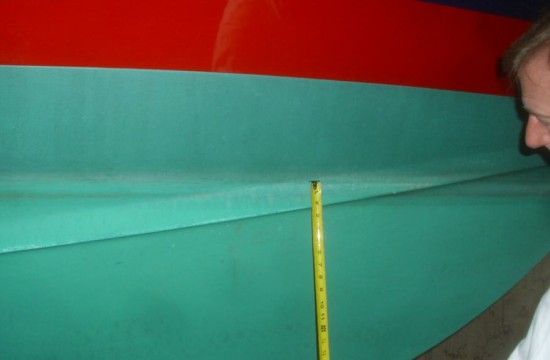 The owner of the GB32 we have in brokerage brought back the ladder that
I may have shamed him
into refinishing. This is the icing on an already beautiful cake. This boat is listed in our
brokerage section
and would look great sitting at your dock!