A good Friday would be one where I was off. That would also be Good Monday if I were off on Monday, etc. As it is, it is merely Normal Friday with the exception of a light work crew. One guy is off and most of the others went over to Oxford to install conduit for the new docks – which I understand are coming right along. Personally I haven't been over to see them — I'll just have to be surprised at the completion. Maybe we'll have a party – but I kinda doubt it. I can't say enough good about the Pettit Barnacle spray. We put in on every boat we launch now. If you've been reading the blog for a while you've read about it before but it does work so I keep on mentioning it.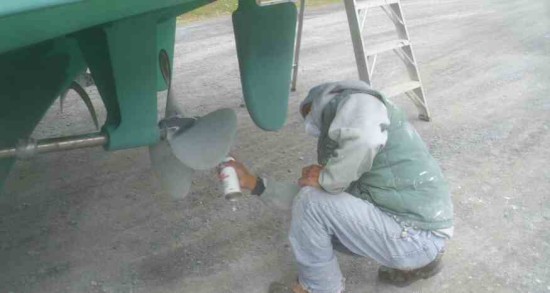 We had a customer bring his new anchor in yesterday.  I told him that he looked like a kid on Christmas morning opening all his toys!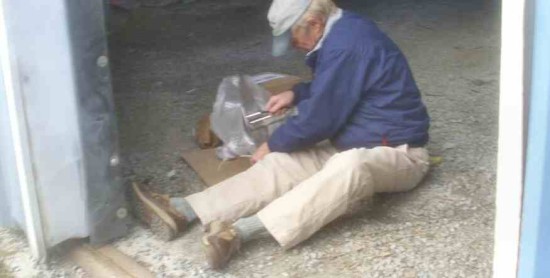 Just to show a process, here is the make over of a himalaya on a GB47. The owner is getting all new instruments and needed the old holes filled. We sometimes do this with a black panel but he wanted factory fresh original style so we are glassing and gel coating the surface.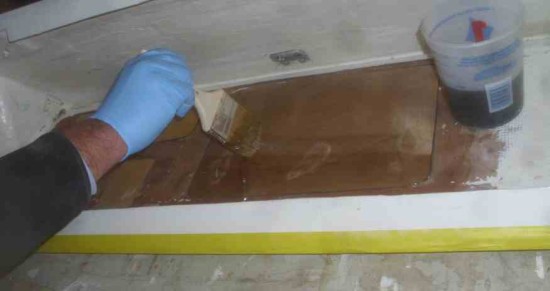 You can see we made tight fitting blanks to fill the existing holes. After the glass work there will be a solid surface for any new holes that are cut.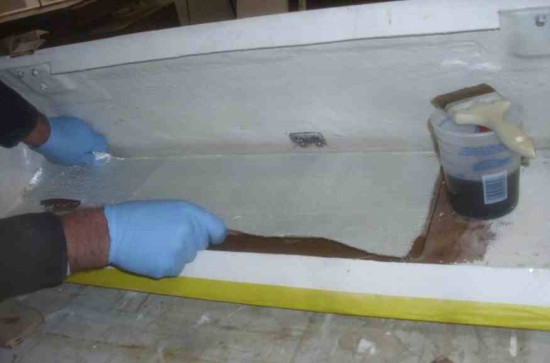 The inside will only be faired as good as the original — no need to make this perfect because it's inside and out of site. The outside however should be as "smooth as glass" after he's done. You can see how the blanks were stabilized for the job until the structure is rebuilt.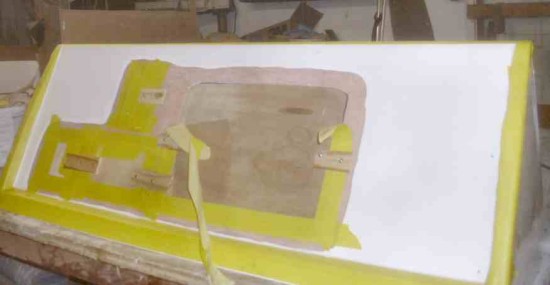 Anything Can Happen Friday
Learn some good knots at
Fore and Aft Marine
.
Husband Down
A husband and wife are shopping in their local supermarket. The husband picks up a case of Budweiser and puts it in their cart. "What do you think you're doing?" asks the wife. "They're on sale, only $10 for 24 cans" he replies. "Put them back, we can't afford them" demands the wife, they carry on shopping. A few aisles farther on, the woman picks up a $20 jar of face cream and puts it in the basket. "What do you think you're doing?" asks the husband. "It's my face cream. It makes me look beautiful," replies the wife. Her husband retorts: "So does 24 cans of Budweiser and it's half the price." That's him on Aisle 5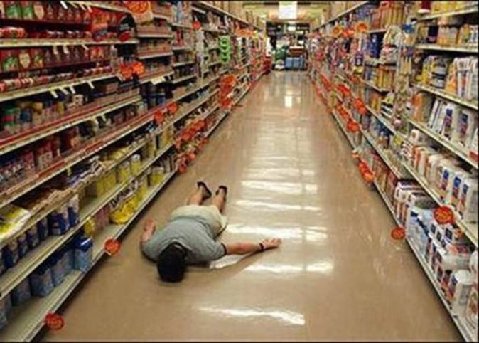 And speaking of a Man Down: httpv://youtu.be/KKJpMBgcqCA