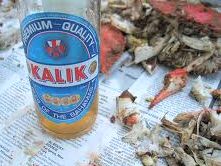 Hot, Hot, Hot! Some of the guys came in early today to try to beat the heat. Yesterday at some point in the afternoon I realized that I was the only one here. Needless to say I didn't stay long after that. That was alright with me since I had a dinner engagement. This was the annual dinner for the Town of Oxford employees and spouses (thanks if any of the Commissioners are reading!) No complaints this year. I stuck primarily with crabs and beer. The crabs were hot and the beer was not – just as it should be. We sat on the deck at Pier Street and though it was a bit hot being out on the water with a slight breeze was not all that bad – not like working out in the sun. I imagine it will be  short day again today for most of the guys out there. We did manage to get some work done despite the heat. They are making real good progress on reviving the sail boat. They were at this by 7 this morning.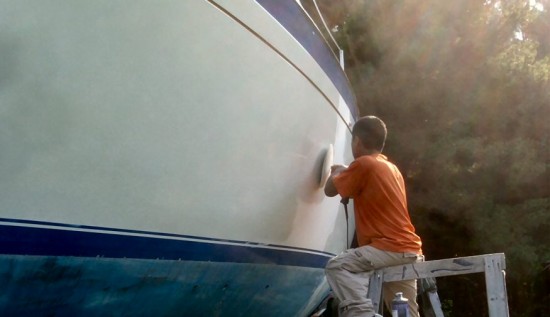 You can actually see the shine come out in this photo, and it's only compound at this point. The boys were disappointed that it didn't look like the finish they get on a Grand Banks. I had to remind them that this is an older boat that has had the gelcoat neglected and will never look quite brand new.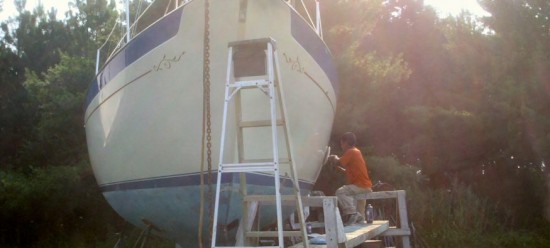 On the Albin 28, to get to the fuel sender we had to remove the bench seat. This is one of the very few places where we use silicone since we don't want adhesion – only sealing. We wanted Almond color which seems to have disappeared from all of my marine catalogs. That's what hardware stores are for!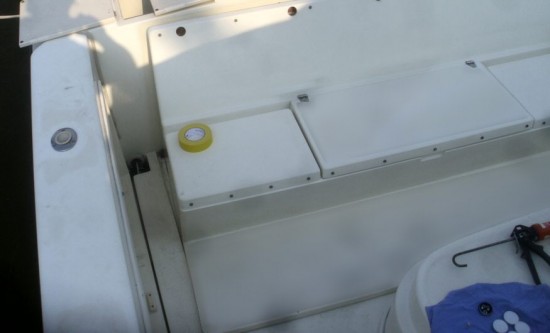 We also got the non-skid rolled on the flybridge of the boat we had prepped. This was actually a follow-up to the fore deck on this boat last year which the owner's wife loved and requested for the flybridge. If the wife wants it, it's a sure bet it gonna' get done.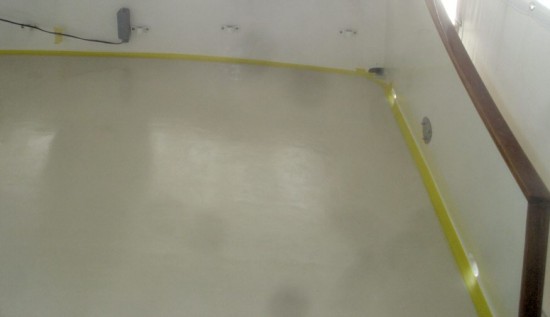 When they had experienced way too much sun the guys moved into the almost cool shade of the big building to work on John's Star boat. This had been sitting in the weeds for many years and looked as bad as the sailboat we were reviving. By the time they had disappeared, it was looking almost presentable.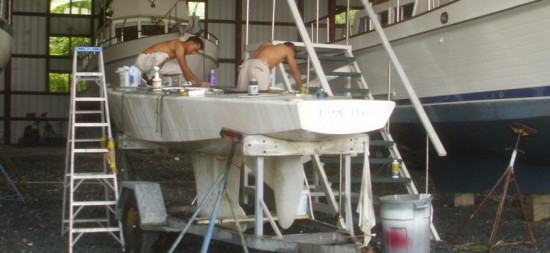 Willy took charge of cleaning up the mast. Cleaning won't quite do it though, it needs to be painted as aluminum is showing all over the place. He doesn't look hot does he?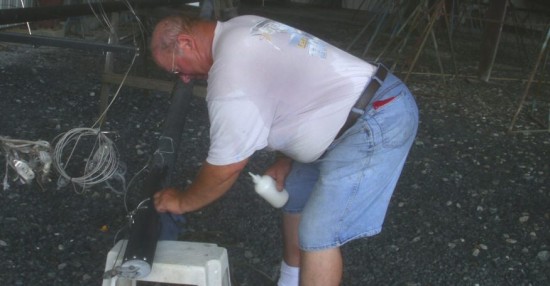 Anything Can Happen Friday

Knot your father's Knots
These animated knots are primarily for boaters, but many are useful for anyone who uses rope and values safety. This site uses clever animations, movies and specific diagrams to show a multitude of knots that you can learn to tie and where to use – if for nothing else, just to impress people you boat with. Visit the
AnimatedKnots
website. For those of you who may have missed my Easter egg with Paul Thorn, I feel obliged to present a more visible introduction to this very talented guy. httpv://youtu.be/1tWHaId1s8U