I don't know about where you are, but here (where your boat may be) it is cold, damned cold. I can take about 3 more day of this before I come to visit some of you in warmer climates. But I do understand from John that it will be warmer next week. I don't bother to look at forecasts, I just accept today's weather as it comes – sort of like my dog does. I sometimes wonder if he thinks I control the weather.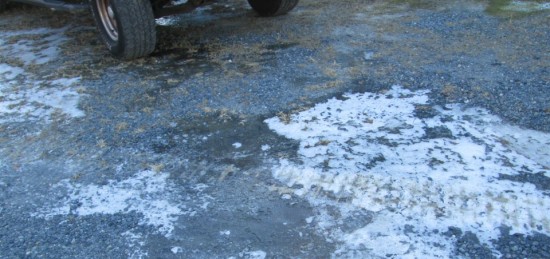 Izzy was quite happy though. They put the 46 in the building with the transom facing out. Here he can strip the transom and catch a little tan from the sun shining directly on him. Of course, he'll have to lose the hoodie to do that.  I also told him if his hands got cold he could just run the heat gun over them.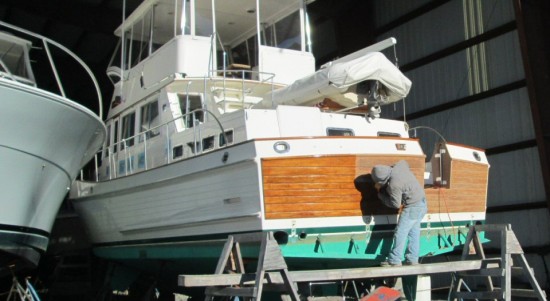 This time of year some kind of boat movement has to be going on all the time. With the extreme low tides this week we are still held up on the sailboats but there is plenty of other boat moving projects to take care of. Yeah, they're
working on a boat move
to paraphrase Bob Seeger.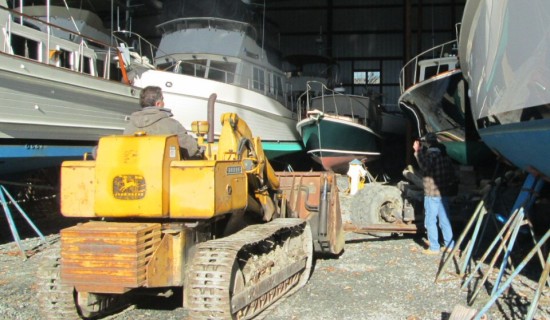 And the engine project should be all wrapped up, literally. Tom put shrink wrap on it to get it ready to move out. We didn't have any propane around so he used the torch to shrink the wrap. He said you can do it with a hair dryer if time isn't a variable.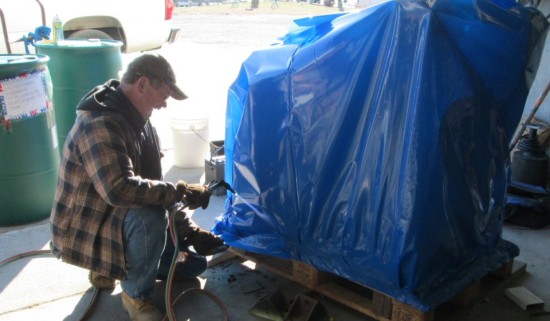 Anything Can Happen Friday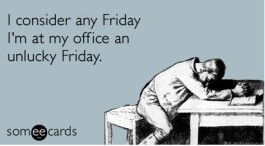 Friday the 13th unlucky?
I think not. Most mornings I wake up super-early. I often watch wood turning videos on You Tube and one of my favorites is Carl Jacobson. Today he was giving out a prize to the first person to answer his riddle. Usually by the time I get to see his offering, at least a thousand people have viewed it. Today I was viewer number 1 and don't laugh, but I won a bag of paint chips. If that seems strange,
view this
.