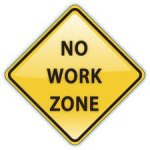 I'm
officially on vacation
and as you can see, I am
still posting
. We are planning a couple of  short trips until we leave for Chincoteague Island Monday morning because the hurricane is going to get pretty close to there. I guess I will be missing a
full day of madness
at the yard since there are a ton of boats that want to be hauled. Almost everyone was on haul out duty yesterday – the inside of the building is beginning to look like winter storage season. These guys were working their little hearts out!  Thanks guys. I hear the Oxford yards are in a panic – they are out there on the peninsula where there's not much protection. The
whole town is apprehensive about the potential for flooding
again.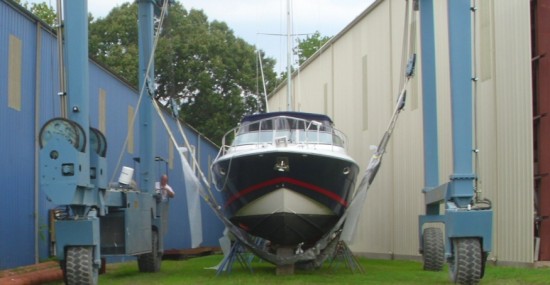 The new owner of the Eastbay 43 sent us a real nice photo that I wanted to share –
just ethereal
! Thanks for sharing Bob.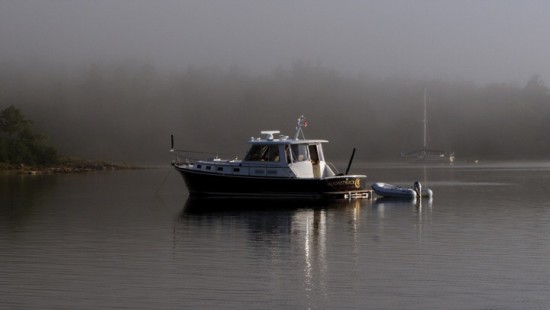 The windows have started to go in. The tracks and the glass have to be inserted at the same time since there is
no way to get the glass into the track if it is already installed.
This also means you have to have the bedding in place when you insert everything. (make sure you dry fit first!) This is a two man operation – one guy in and one out.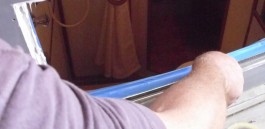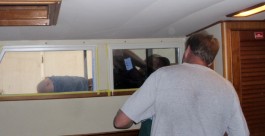 Notice that we have the felt taped up in the photo above. This keeps the fresh caulking out of the track on off the felt. No sense in messing up the felt since that is why you are changing the track!
Bedding everything properly is the key to a proper job
. If you don't have squeeze out, you don't have enough caulking. As you can see on the scrap card board, there is a lot of waste but that's alright – it's cheaper than pulling the window back out again.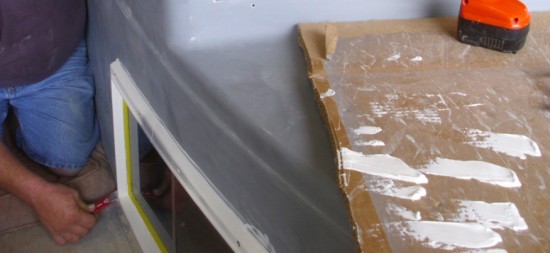 And here is what the final product looks like. Just a little more clean up and plug the holes and it is ready for top coat.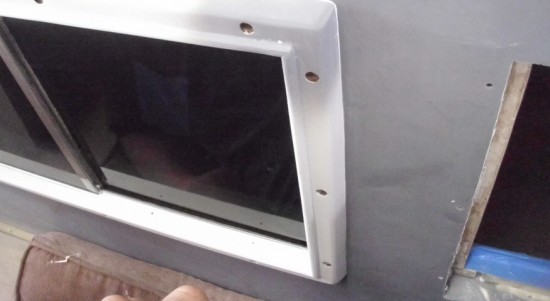 Next week (or when I get back), we will be starting a
tank replacement job on a GB32
– which I know is of interest to all you Grand Banks owners. Hopefully Willy will be sending me photos so I can post the preliminary steps to the job. Stay Tuned.
Anything Can Happen Friday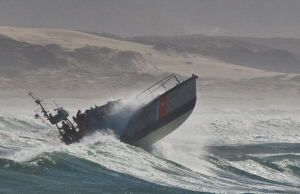 In light of the impending storm, I present a collection of hurricane related links
Nature's Conception – Calm before the storm Image collection
Blast from the past; first hurricane hit Pilgrims in 1635
Historic Hurricanes–Some Of The Most Powerful Storms On Record.
Hurricane Isabel at Dickerson Harbor and Oxford