Well, It's A Beautiful Day! The weather couldn't be more cooperative – it's
almost
a pleasure to be here.  We will be hauling our next project this morning – a Grand Banks 42 which has a pretty long work order – which includes window track replacement and a host of other projects. We are pretty
excited about moving on another boat for a change
. More details on this next week. We de-taped the thruhulls on the waterline of the EB43 yesterday. That makes a big difference. The next time you bring your boat in
you should have this done if needed
– you'll be surprised at how it spruces up the look to have the thruhulls looking sharp.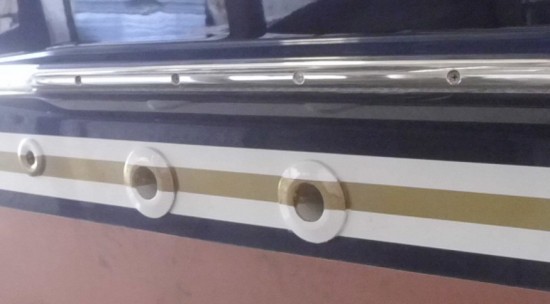 With the new electronics, we installed the new
Garmin Intelliducer
which allows you to mount without a fairing block. This did mean we needed to remove the old fairing block, patch fastener holes, seal, fair and paint that area.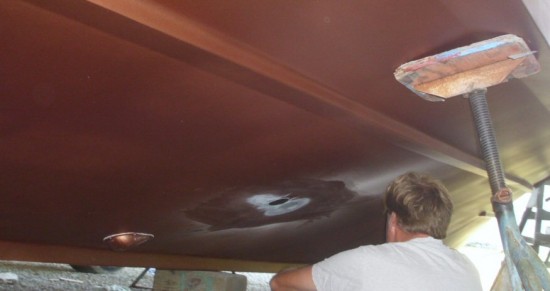 The davit arms are now reinstalled. We have them temporarily padded to try out but have a nice white rubber product coming in today to create the surface contact area on the top. The old ones were vinyl but this product should last much longer (
and of course, I got it from McMaster
).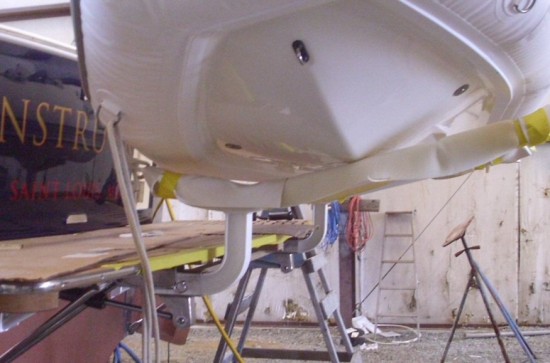 Here is a nice King Starboard box that we fabricated for electrical connections. After installing
we will add a clear lexan cover
for safety.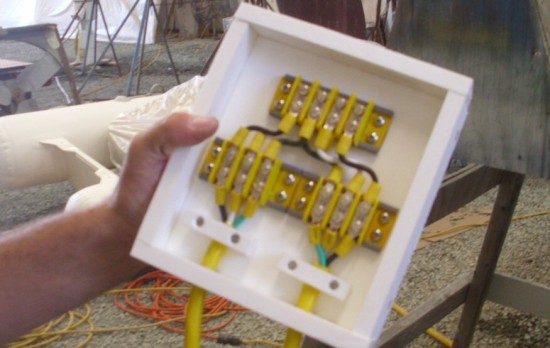 Pat finally got around to changing the water pump in the little Mercury outboard. As you can (almost) see in the picture, it would not be possible for it to pump any water! The outboard is over 10 years old and
still going strong
!
Anything Can Happen Friday
Don't know the source of this, but I kinda like it.
If You Can..
If you can start the day without caffeine; If you can get going without pep pills; If you can always be cheerful, ignoring aches and pains; If you can resist complaining and boring people with your troubles; If you can eat the same food every day and be grateful for it; If you can understand when your loved ones are too busy to give you any time; If you can forgive a friend's lack of consideration; If you can overlook it when those you love take it out on you when, through no fault of your own, something goes wrong; If you can take criticism and blame without resentment; If you can ignore a friend's limited education and never correct him; If you can resist treating a rich friend better than a poor friend; If you can face the world without lies and deceit; If you can conquer tension without medical help; If you can relax without liquor; If you can sleep without the aid of drugs; If you can honestly say that deep in your heart you have no prejudice against creed or color, religion or politics; then, my friend,
you are
almost as good as your dog.