It is
Saint-Jean-Baptiste Day
for all of our Canadian Friends (Hi Grant!).  To those of you who are not Canadian, here is a
description of this National Holiday
.  We had a bit of sprinkling yesterday but no real storms. Today is starting out beautiful although there is a chance of heavy rain this afternoon and evening. Just hoping we don't have a repeat of the tornado that came though last Friday! We are down 4 guys today and a 5th leaving in a little while – darned those summer vacations! The bronze bottom on the Eastbay looks pretty good now that the plastic is off. I will testify that that is one smooth bottom for a cruising boat. I wonder if the new owner is
planning on racing it?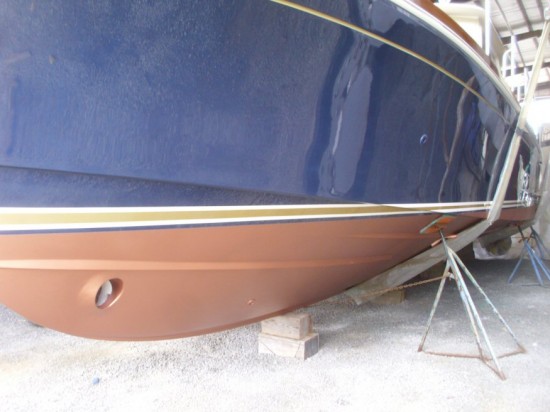 Jeff from Morton Signs dropped by to put the new name on the boat. This one is
extra fancy
with the graphics along side.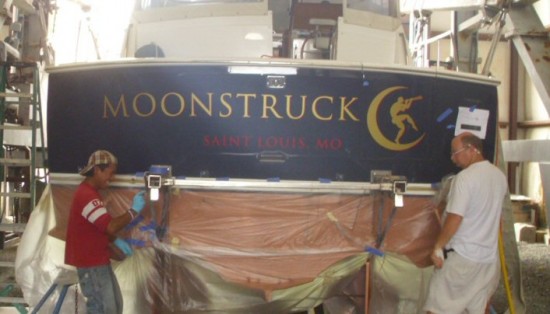 We finally got the glass on the repair in the lazarette of the GB42. We had to do this with West System because there was plywood involved.
Epoxy makes a more permanent bond to plywood
than polyester resin ever  could. It should get painted sometime this morning.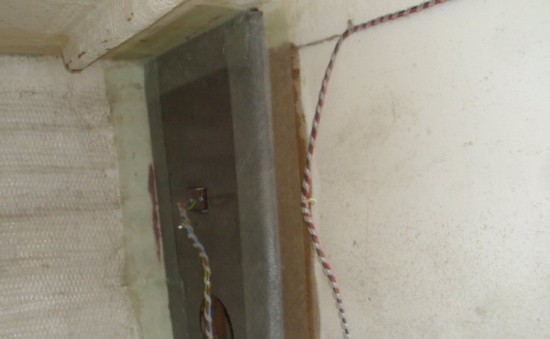 If you want to avoid problems like this in a Grand Banks,
inspect your bulkheads carefully
. You will need to pull up the grates to inspect the bottoms.  Any tabbing that breaks loose or cracks is an invitation for moisture to get in and rot the plywood. If you look at the photos below you will know what to look for. Fixing them at this stage is a lot cheaper than replacing rotted plywood.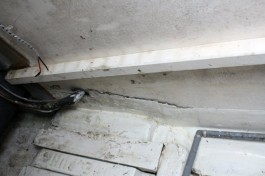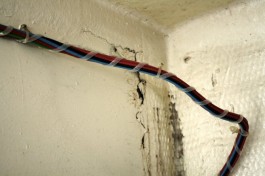 Anything Can Happen Friday
Looking for something local to do tomorrow?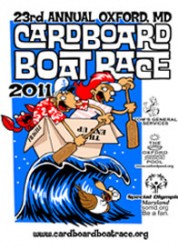 Cardboard Boat Races
in Oxford. – Don't be late for this annual melee at the Strand in Oxford, Md., because the wacky, homemade cardboard boats will sink fast! But, it's fun nonetheless and the event raises money for the Maryland Special Olympics. Oxford, Md. Inspection at 9 a.m., races at 10 a.m.  410-789-6677; 
www.somd.org
.
Eastport-a-Rockin'
– Now in its 15th year, this one-day, three-stage, 27-band, food- and drink-happy event is bigger than ever, complete with crafts and fun for the whole family. 723 Second St.,  Eastport,  Annapolis. 11 a.m.-8 p.m. 410-916-5500;
www.eastportarockin.com
.
Tilghman Island Seafood Festival
– In addition to gorging on fresh local seafood, root for your favorite racing crab and cheer loud and long for the parade and the trot-line-baiting contest at Tilghman Island's summer seafood festival. Tilghman, Md. 11 a.m. 410-866-2677;
www.tilghmanmd.com
.