We seem to be down a few people today, unfortunately one of them is not me. It is already looking like a beautiful day — albeit a hot one. We are starting off the day with launching the boat that got the bow thruster installation. It worked perfectly on land but until you see it in action "leak-free" you can't relax.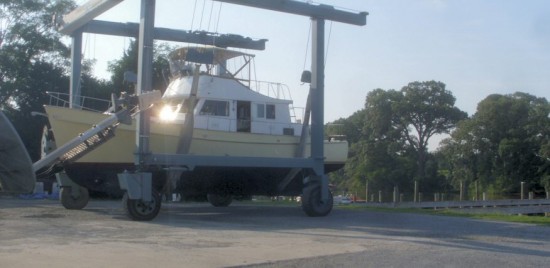 Here is the completed thruster. Notice the blades are coated with Pettit Zinc Spray — a standard here at the yard. The shape is very "hydrodynamic " and the installation is flawless. We are concerned about the thickness of the tube that was sent to us from Imtra and we have decided to give a couple wraps of glass to the tube inside the boat to avoid flexing — which could cause leaks in the future.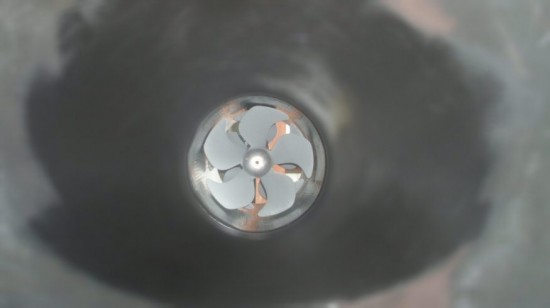 I had also showed the rudder and shoe on this boat. Now that has been primed and painted, and more zinc spray.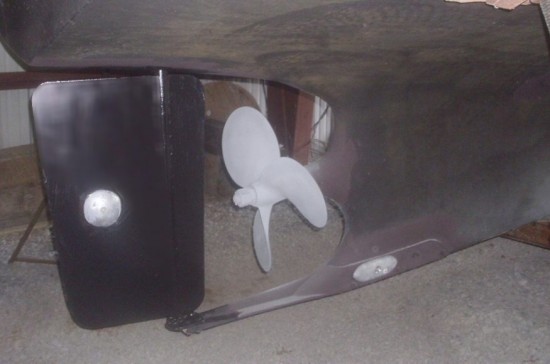 And while we were doing the zinc spray, the prop had just been returned by the prop shop for the Eastbay 38 so we went ahead and did that as well.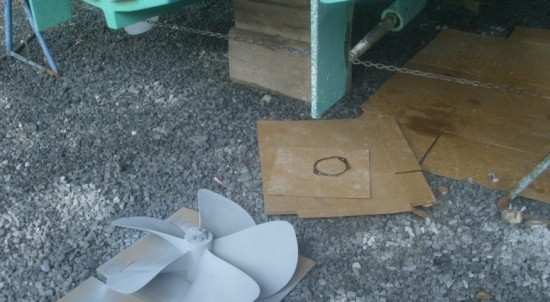 They (well, mostly Angus) are making good progress on the Awlgrip prep. Any dings in the old paint have now been filled and are being faired today. We should be ready to shoot primer by Monday and topcoat before the end of the week.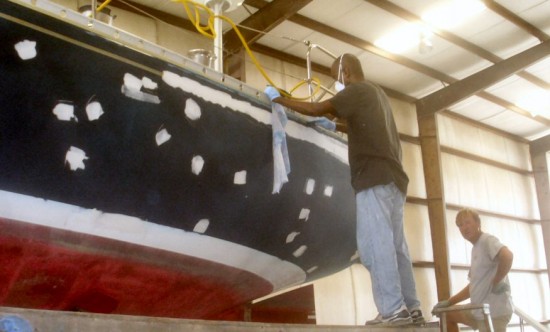 We did varnish work on a GB46 over in Oxford but it is almost impossible to do a good job on the transom while the boat is in the water. Now that it is hauled out we started on that and some touch ups on the name boards.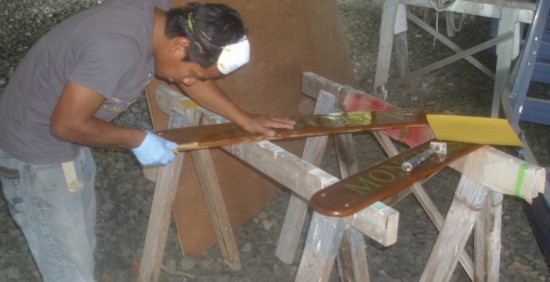 We are also doing a few bottom touch ups and changing zincs. This boat is immaculate and could be yours! See our
brokerage listing
.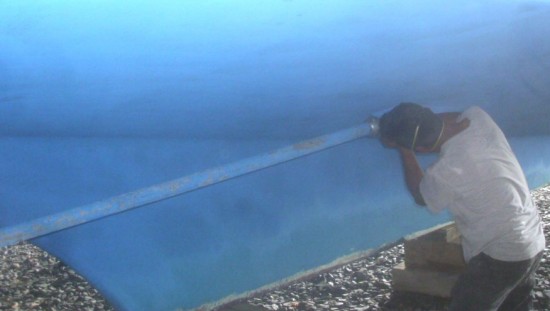 Anything Can Happen Friday
Maybe you're like me and find yourself lacking the fine-edged memory you one possessed. You may like appreciate this site:
Definitions and Mnemonics for Sailors and Powerboaters
When one is first learning boating, there seems to be an endless confusion of terms, procedures, and rules to be memorized. Many of these are critical to safety, and over the years boaters have invented various little mnemonics to help them navigate the complexities. This Web page is a collection of such mnemonics, most time-honored, but a few invented by the author of the page (
Geoff Kuenning
) to fill in the gaps where none were available.
Go to the site
to read article.
Just For Fun
httpv://youtu.be/473zY93Dltw
Afterward
One of our readers sent me some content for the blog this morning (thanks Austin) but it may have breached the
High Standards
of the blog — or at least taken it to an
all-time low
.