We did get our rain last night and perhaps some more throughout the day. These are some pretty big puddles but they overstate the actual rain we got. But some rain is better than what we had. It looks like it may end up being a frantic Friday today so the lower temperatures will help keep tempers at bay.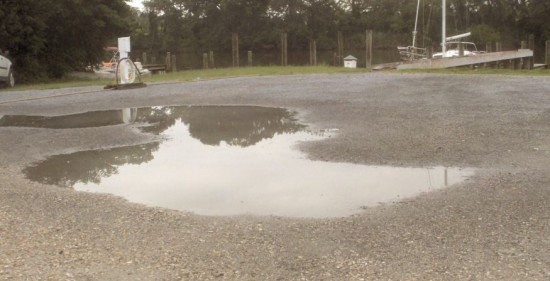 We got some masts and boats moved to the staging area in preparation for the boom truck's arrival in about an hour from now. We need to get this done just in case it rains more later in the day.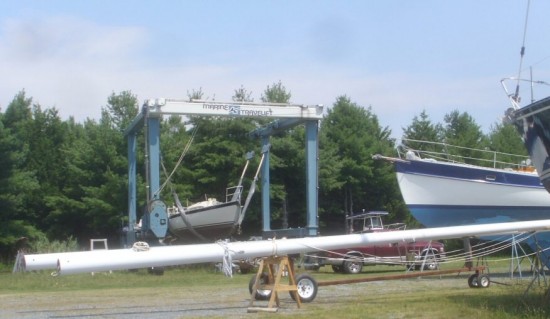 It's all about the Legacy… We got the windshield reinstalled yesterday afternoon. It took a few hands to line this up right as you could imagine – it is quite long and unwieldy.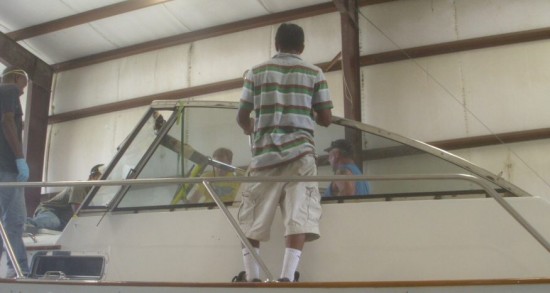 We were also doing a bit of polishing on the modules that go back into the cockpit, like the settees.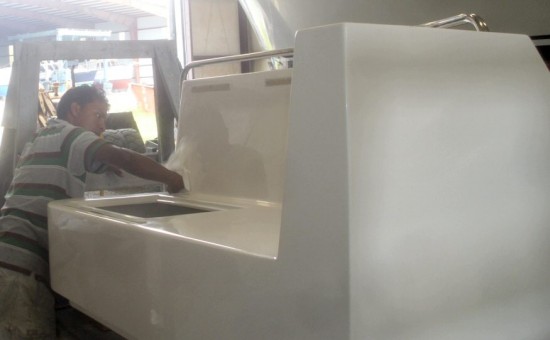 This morning we were removing the tape before setting everything else in place. It takes a bit of time to get that much tape off — you don't want to go about it haphazardly or you could damage the edges of the new paint. Slow and steady — I guess we should have had Rumsey on this.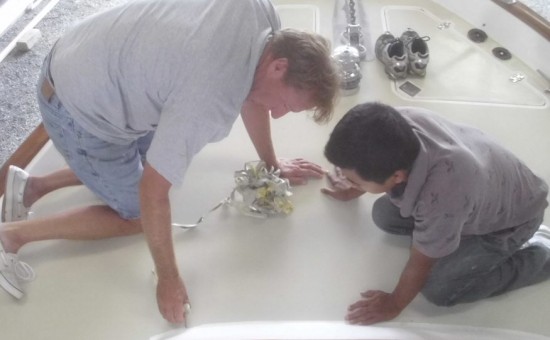 The photo above has been lightened. The photo below is fairly close to the actual deck color. It looks good with the white border and the sharp lines. The non-skid texture is very light in this – just enough to keep you from slipping.  I was walking on it in my bare feet and it felt just right.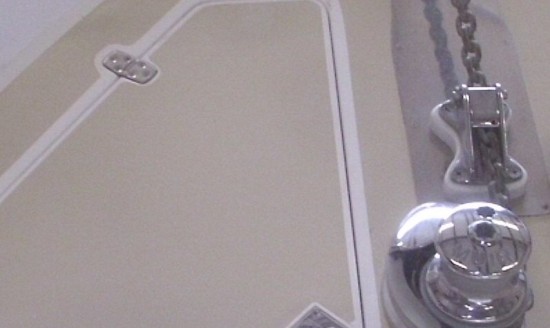 We had a Grady White with a Yamaha 200 hp engine that wouldn't run right. The longer you ran it the worse it got and if you tried to run it in open water you couldn't even get up on a plane. The problem ended up being an oxygen sensor. We replaced that and the engine got the boat up to plane just fine but we found that it overheats even though it is pumping  water. When we put the temperature gun on it there was about a 20 degree differential between the top and bottom of the block which means it is not pumping enough water. Fortunately, we have a new impeller sitting on my desk.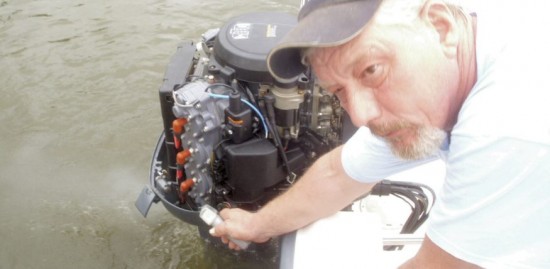 We have been working on other things that haven't really made it into the blog.  We are  replacing a shift cable in a Chris Craft 33 today. I did show the backing plate we put on the shifty shifter a few days ago but it is still stiff to shift. Say that quickly a few times. As a follow up on the refrigeration install — it was running last night and Rumsey just left to go over and inspect the temperature and tidy up a few loose ends so the customer can keep his beer cold for the weekend. Lucky guy! We had a call as a result of my posting to install new units in a Grand Banks 42. We have been using these since about 2001 with an excellent success rate and at a much lower price than on comparable equipment.
Anything Can Happen Friday
One of our customers sent me an email with a few jokes in it. I usually don't read mass-forwarded jokes but I found myself with some time on my hands and took a glance. I need to share at least one with you:
A doctor examining a woman who had been rushed to the Emergency Room, took the husband aside, and said, 'I don't like the looks of your wife at all..'
'Me neither doc,' said the husband. 'But she's a great cook and really good with the kids.'
Just for Fun
httpv://youtu.be/cGD-tUsySPs