We go out on a bang with temperatures reaching 77 this afternoon – just in time to bring in the rain for the weekend. But for now we're fat and happy. A lot has happened this week but it always seems that we are moving too slow. It just takes time to do quality work. 90% of any job only takes 50% of the time and the last 10% sets the good work apart from the average work. Willy came back to work (again) yesterday. A full week just spent him after taking most of the winter off. He is Mr. Gadget as is evidenced by the nice little LED lights on his hat.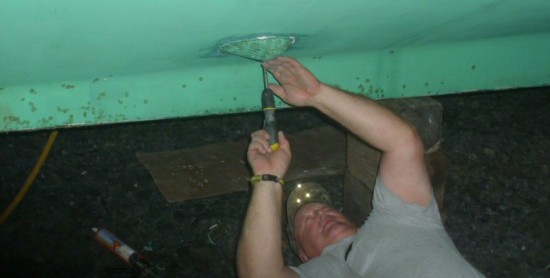 We were on the final phase of the tank job yesterday doing the fuel lines and reconnecting all the engine wiring. It always seems that there is one or two fittings that are wrong when you go to put something together. These are not the type of fittings we can run up to Lowe's and pick up. A word about fuel hose – our recommendation is Gates for any new fuel lines we put in a boat. I also should mention that since this is an aluminum tank, all fittings that go into the tank are stainless to eliminate corrosion problems. From that connection you can change to brass.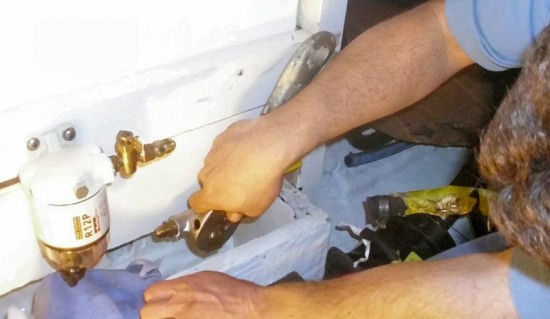 Deck work
– we could sell this all day! It is amazing how many people ignore deck seam problems. If they spent the money necessary to keep decks in tip top shape it would make more sense to go with painted decks.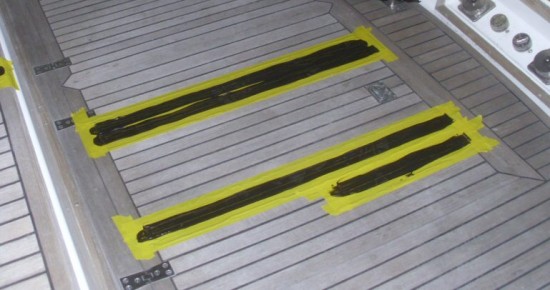 A Primer on Metal
– don't think that regular fiberglass primer will work fine for metal – it doesn't. You have to use underwater metal primer to keep bottom paint on metal.  You have a better chance with bronze than stainless which is very unforgiving – it needs to be prepped right!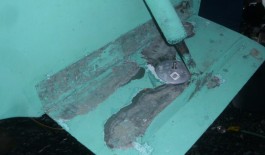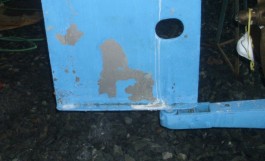 GB Make-Over
– This owners of this boat did not like leaning over the counter to use the microwave. Since it is a convection microwave they didn't use the oven on the stove that often. The solution is to remove the stove, put the microwave on the shelf there and put a cook top in. There will be some space between that would just take a teak panel to fill in. It's a shame there isn't enough room to make that a drawer. The old space that held the microwave will now have doors to make more storage.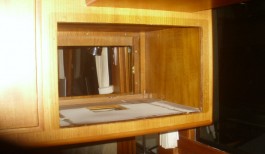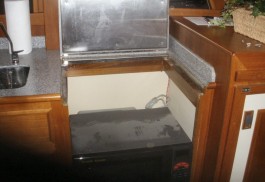 From the DIY Guy
– This owner is a "hands on" guy and is learning some new tricks under our tutelage. Yesterday he was replacing the windshield hinge and gasket on the front windshield. I have to confess that the hinge broke when I lifted the window to assist getting his newly recovered chairs in the boat. But in my defense, the hinge had already reached the end of it's life expectancy. It is PVC and has no UV protection so if you get 5 years out of it you are on borrowed time. It could be replace with a SS piano hinge but the reason the plastic is used is to create a waterproof seal there.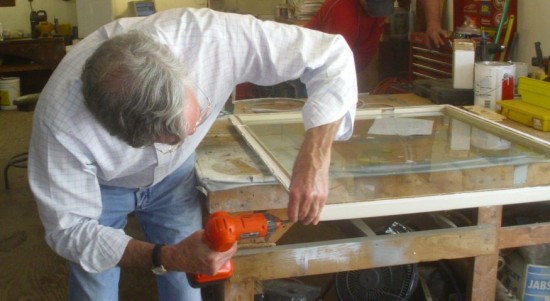 He also build this nice mini-himalaya sort of  like the ones found on the Eastbays. It did overhang the lift up chart locker lid so we were debating putting it back further and adding another horizontal hinge in the lid or just splitting the lid and putting a vertical seam in.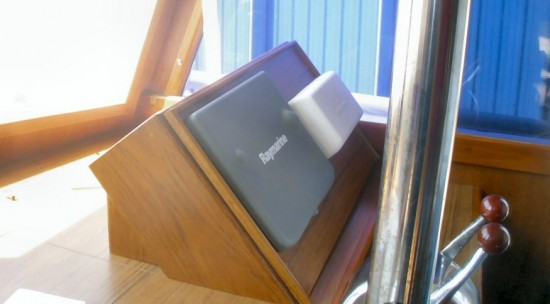 Resources From Today's Posting
Windshield Hinge –
McMaster Carr Part #11195A42
Windshield Gasket –
McMaster Carr Part #93085K67
Gates Hose Information
(manufacturer's website)
Teak Deck Maintenance
(from unbiased source)
Pettit Underwater Metal Primer
(pdf file)
Anything Can Happen Friday
I spent too long on today's posting and didn't have time to find much fun stuff but I can post one video. httpv://youtu.be/cteblJqEY18