Everything is almost back to normal now including my posting time. It is boat show weekend so don't expect to catch John at the office much today – he has "bigger fish to fry". And most of the crew is off today as we have basically gone to a 4 day week until the real haul out season begins. It is more fall-like today and should prove to be a great weekend for the show after these clouds move out a bit later. Whenever we are working in someone's engine room we try to look for unrelated problems that might crop up on a survey, such as this exhaust hose we spotted while doing an oil change. If you zoom in on the photo you can see the cracks in it.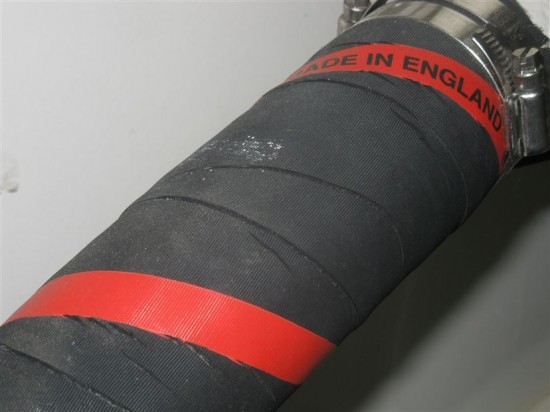 Most of today's posting is devoted to the engine room makeover. What a difference a fresh coat of paint makes!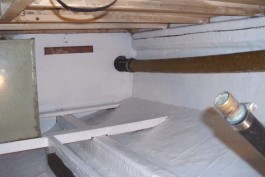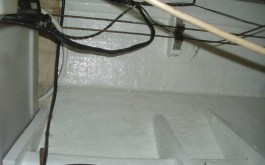 We decided to paint the bilges grey instead of white to avoid the dinginess that it is inevitable in a bilge with dirty water sitting in it. The grey does not show up dirt quite as easy.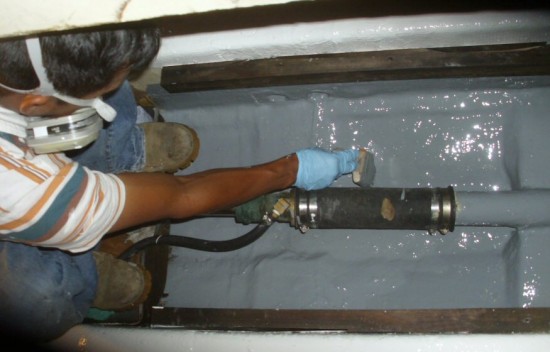 The owner mentioned the the AC was barely putting out any air. This unit has no duct work at all but just sits there and outputs through a hole under the helm seat. We noted that the unit has not been cleaned for years. With a unit this old a new one would just make a whole lot more sense than trying to repair it.
Anything Can Happen Friday
This is an awesome video – he makes it look so easy! httpv://youtu.be/dY1Lr-yGtd8