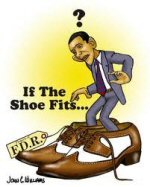 Yesterday around 4 the wind picked up and the temperature dropped about 15 degrees in a matter of minutes – and that is where it has stayed. It is looking like a very fair weekend – just right for boating (or working out in the yard). Yes, I shed the flip flops and have on shoes and socks today but haven't gotten to long pants yet – it will have to get a lot cooler before I do that! John and Rumsey were getting the Shields outside a few minutes ago – I believe to spray bottom paint on.
John gets pretty happy
when the
Shields Nationals
are coming up.
The boys did a
great
job stripping the old beat varnish from all the
grates
and seats. These will be let go gray (does that phrase sound right?) – probably
to save the weight of a quart of varnish
🙂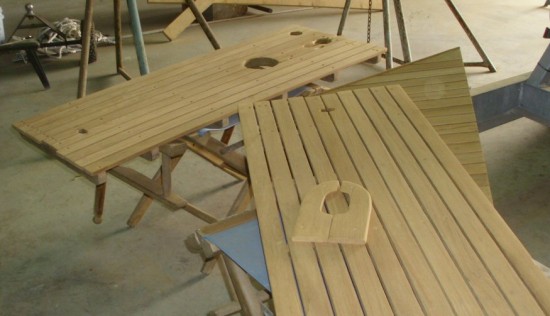 The King Starboard trim is still in progress on the 42. Rumsey is using the old trim for measuring purposes. Fortunately,
someone had the foresight to label them
as they came off the boat.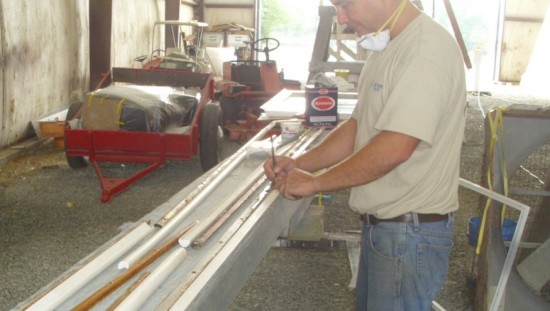 And here is how it looks with upper and lower pieces installed. The stainless screws are temporary and the finish screws are white to make them less noticeable.  Also notice there were some small parts like the door overhang and sill that still needed to be hand painted.
Awlgrip flows great
if you mix it properly.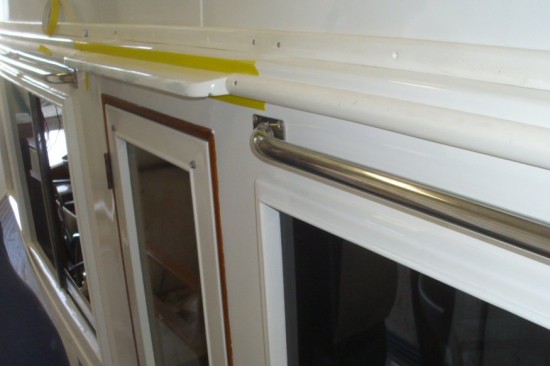 There is a lot of prep going into this bottom job but
the prep it really needs is a good soda blasting
. The paint is flaking off and very thick in a lot of places – more than you could ever get to the level of an acceptable bottom job. That is on the long range plan so taking off most of the flake and putting in some Pettit Tie coat before a coat of Hydrocoat should suffice for a while.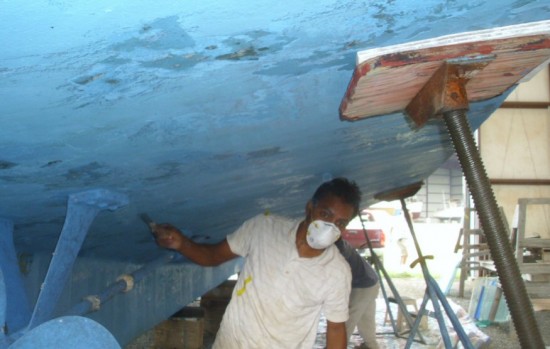 Anything Can Happen Friday
Hope no one finds this offensive (I didn't)
httpv://youtu.be/-xFaJUZRkQM