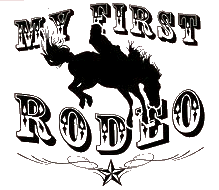 It's a bit overcast this morning but it should burn off and prove to be a wonderful few days. I could list the jobs that didn't get completed this week but I won't. I just know that at 5 Alan is gone. Today's blog is all about the paint. Pat took off yesterday and today for a mini-vacation / long weekend and we had several guys moving boats all day which pretty much left the paint and varnish guys working. Darron from Pettit Paint came in and sprayed the Rainbow. He used to be a spray guy in several yards and even though this was going to be the brush and tip job, he understood how time constraints led us to this path.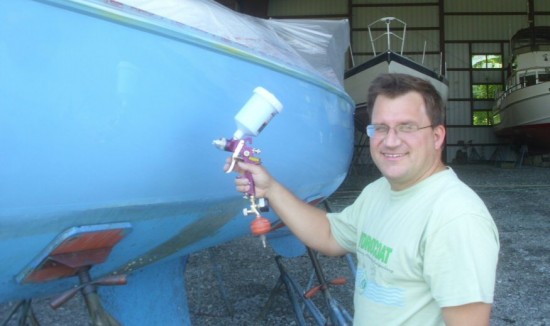 John didn't like the job but he was trying to compare it to the Albins, Grand Banks and other boats that we normally paint. This boat is about 40 years old and the hull was pretty beat. It's just not an apple to apple comparison – it will never be a new boat.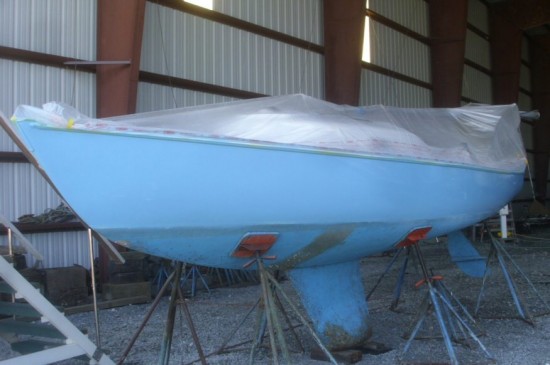 The Albin, on the other hand, does look like a new boat now. Time was spent on hull problems and fractures to get this boat ready to sell. Once again I stress that painting a boat takes hardly any time but the quality of the job depends on the amount of time you put into the prep work.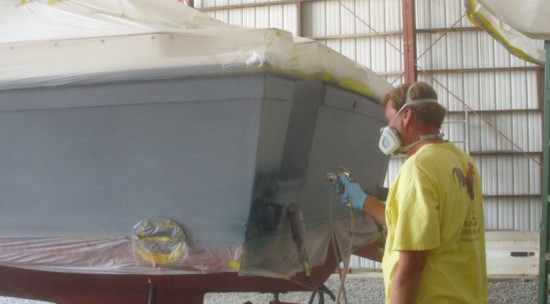 And here is what the job looked like at the end of the day. This took 3 coats to ensure adequate coverage.
The finish was pretty much perfect. We should be doing the boot top on Monday after the hull has had a few days to cure – that is if we don't see a butterfly.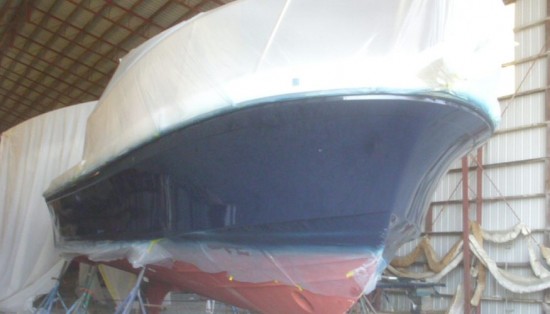 Anything Can Happen Friday
I found a pretty innovative product in Trade Only magazine yesterday –
Lithium 8D batteries
.  Some of the features that caught my eye were:
Lightweight – an 8D battery weighs only 99 lbs. – which means a lot if you are the one changing the batteries. Also according the the literature one battery can replace 4 and although I kinda doubt that, if it replaces 2 it would be great. Plus the battery actually shuts itself off if not being used and loses very little power while boat is in storage. You can 
download the fact sheet
or go to the
manufacturer's site
. I haven't been able to find any source for these yet and not sure if we want to be the guinea pigs but it looks like the wave of the future.
Just for fun
httpv://youtu.be/c73BWezsyEo