The weather is still holding and it couldn't be better.
This may be beer drinking weather
. We got quite a bit accomplished this week but still have deadlines we have to meet by tomorrow. If all goes well, it should not be a problem, although we are down one guy and the mechanic is delivering parts over in Delaware and will be delayed a couple of hours. The boot top job is totally finished and clear coated. I had to look hard for the repair – there is a slight color variation due to the new paint being
a bit brighter than the older section which has been out in the sun for years
but after a while it should fade in nicely. You won't see the difference in the picture (or when the boat is sitting in the water.)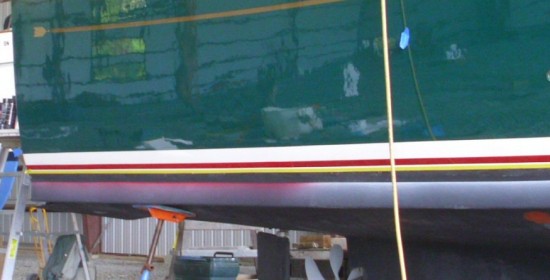 Steve Price is finishing up the canvas work on this boat this morning.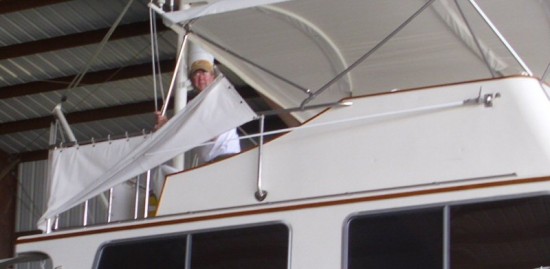 The owner
thought
he had a crack at the bottom of the keel. What we found was an
old repair that had not been done properly
. The repair was strong enough but whomever did it left the ragged edge of the new glass. We ground it out fair and coated with epoxy (owner's request – not ours!) and then hit it with some Pettit Tie Coat. We will add several coats of bottom paint next.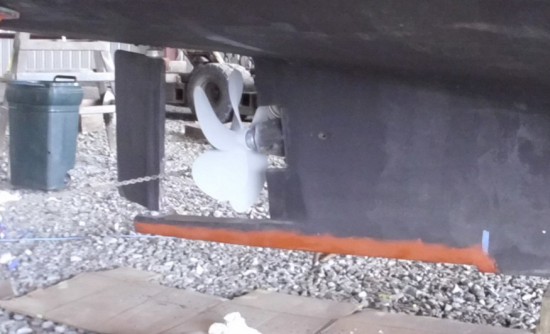 On a Tiara 40 the owner wanted a ladder to get down into the engine room – and I can't blame him –
it was a leap of faith getting down there
. This ladder actually removable and folds for storage, should you want to do that, or to move it out of the way while you are working down there.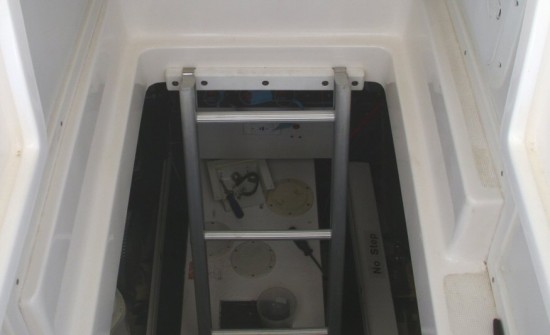 On this same boat, the horn needed servicing. When we pulled it off the base was filled with water. The base was also peeling –
probably from being filled with water
. We sanded and painted before reinstalling. Fortunately, it was the same color as the white on the boot and we could just shoot them all at the same time.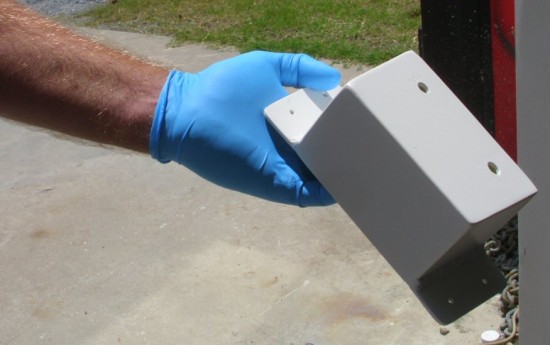 During routine engine room check we spotted a bunch of
dry rot on hoses
in this boat.  All were at the end of their life expectancy and needed to be replaced. We are expecting this in this morning and should have them back in the boat hopefully by lunch time.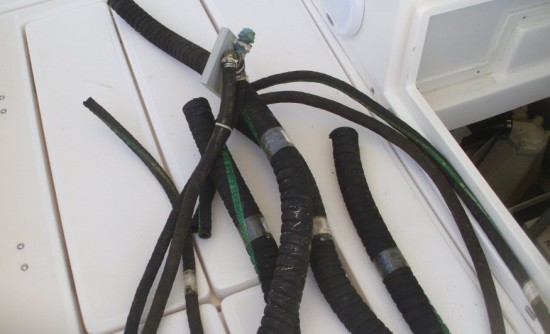 Anything Can Happen Friday
Frequently Asked Questions
I had a couple of people ask me "
what is a bandsaw box
"?  The number one choice at google for "what is a bandsaw box" is
here
. I have some unique projects in mind and hopefully will do some of them! I also get asked
what is a polymer finish
and how is it different from wax? 
Here is that answer
. People often ask me
why I don't have a real job
.
Here is the answer
according to Wikipedia.