Well, I made an unheralded trip to Oxford yesterday to carry a small part. I did make an impression when I took a tumble on the floating dock that sits in the old railway slip — I forgot those things move if you jump on them. So maybe not unheralded but no damage done except my to pride. I think I'll just stay over here in the future.  It did give me an opportunity to take some photos however. This EB49 is coming in for storage. We did an inspection of the boat while it was in Oxford to assess the work that the owner would like done. It's a very nice boat! 
Reportedly
they are bringing the boat over here to Trappe around mid-day.
Hey, I just tell it like I hear it
.
They are stripping varnish from the rails on the GB46.  Not sure whether the whole boat is being done or just the rails. I get "trickle down" information.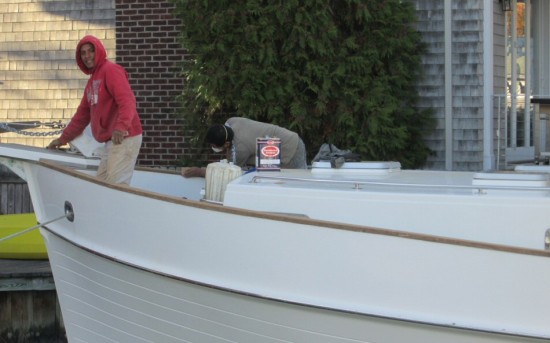 You may notice something obviously missing in the photo above. If you are stripping rails you have to pull all the stainless rails off to get a proper job.
I had to do some looking to find Tom. He told me he had been up to his elbows in head and holding tank repairs for most of the day. That would put you in a crappy mood I would think.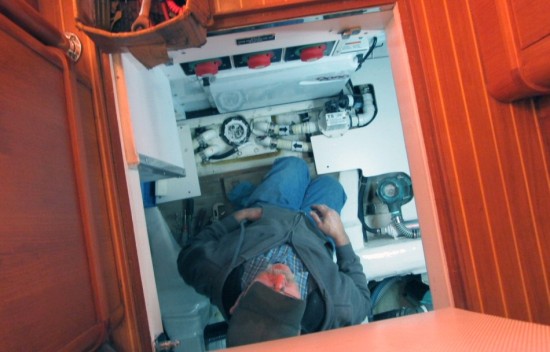 And speaking of heads, I also ran into some of our new customers who are contemplating a Vacuflush head system for their new baby.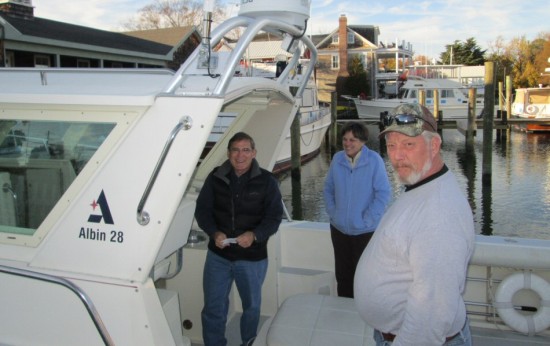 Customer Appreciation
I purposely saved the photo above for last because it leads gracefully into my homily about customer appreciation. It always makes my day when customers come in and spend some time chatting with me despite them knowing I am not allowed to help them with any problems or scheduling.  It gives me
at least
one reason for showing up to work on a predictable basis. Thanks to all of you who brighten my day!
Anything Can Happen Friday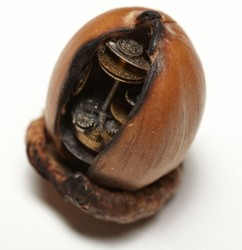 I did the
boat profile
last week primarily because the additions the owner made to the boat showed so much creativity. I have always felt fulfilled when creating something, unfulfilled with anything else (
can you say secretarial work
?). I wanted to turn an acorn vessel this weekend and went to Google images to look at some actual acorns closely to know what I was striving for. I happened upon one extremely creative use of an acorn (on the left).  (
Matthew Jones
) I don't think this is going to help with what I want though! And speaking of Google images, I had a customer in yesterday who was lamenting how hard it was to find some hinges to match his boat and I showed him this little trick. He was excited to get home and start working the web to find matching hinges.
I help where I can.