I had one customer tell me that he missed yesterday's posting and confirmed my suspicion that most of you are reading the blog at work. I hope I am not contributing to the decline of productivity (too much!). The official countdown to the holiday shut down will begin Monday. Some people may be working Christmas Eve, but rest assured one of them won't be me. We continue with our haul outs and only have a couple of stray boat remaining. Primarily people who haven't responded to my storage contracts. They really need to get off the fence.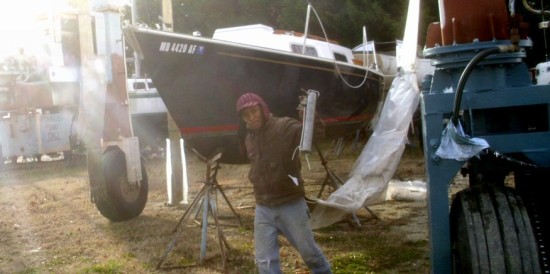 The primer is on the repaired transom and Kevin is out there as we read this doing his final sanding and tenting up to spray the blue. It took the primer a bit longer to dry than normal since the nights get fairly chilly – but nothing compared to what they could be here on the cusp of winter.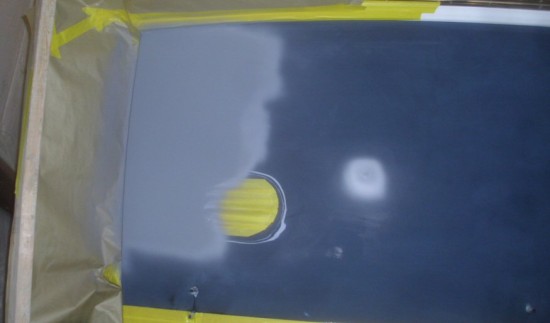 And here is a close up to show how smooth the repair and transition is.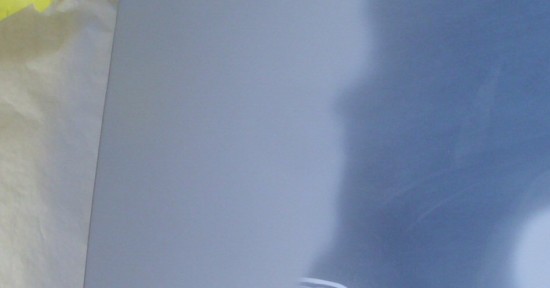 Just a word about Awlgrip. John is up at a survey on sale he orchestrated. They found the boatyard had shrunk-wrapped the boat and put tape on the paint. The hull finish is basically ruined. Never shrink wrap an Awlgripped boat!
Anything Can Happen Friday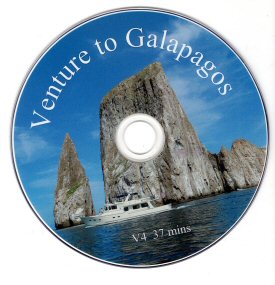 Maybe this will be fun for one person. I do the website for
Fleming Yachts
. Tony Fleming likes to take "voyages" and document them in a blog, videos and magazine articles. I do the trailers for the DVDs and consequently have a stack of them sitting home in my office. I will be giving them away as inducements to help promote their company store and to do something different for the blog. This will be a
random hit or miss
and only the first response will get the disc of the day.  In my infinite wisdom, I forgot to pick up DVD mailers so the first one won't ship until Monday. Shipping is limited to USA residents unless I start feeling more generous. Today's disc is
Venture to Galapagos
. You can watch a low quality
trailer here
but the disc is much better. If you like it, you may want to purchase others at the
Fleming Store
.   These are not sales gimmicks or invitations to buy a Fleming — just pure travelogues.  I do feel like making you work for it though, so the first person who answers today's question properly (or entertainingly) is the winner. Don't forget to put your mailing address in the email.
Today's Question is
:
Name one job we were doing on this day in 2012
.
Just for Fun
httpv://youtu.be/Al9Iq7DSO0I
Heads Up Information
We now have a new fax number. We have been paying for a dedicated fax line for years even though we have a perfectly good DSL line that is only used for internet. We tapped a phone jack into the line and voila, we can stop paying to get junk faxes every day and the one or two legitimate ones each month. The new number is
410-476-3056
. I will be changing the number on our website and on future printed materials.