Cold, damp and dismal
— And that's all I'm gonna say about that. We got the swim platform done on the 43 yesterday. You can still see a bit of where the swim ladder was attached. There was a hump which says it was sanded last time without removing the ladder. Now it is flat — we like flat.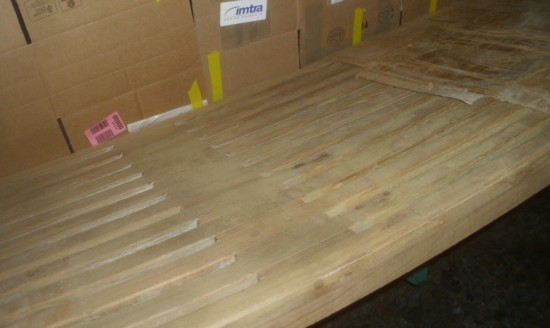 We are also doing the hull on this boat this morning – despite the dampness. Hey, it's only compound! The superstructure was done about a week ago. Both will polished as soon as the weather allows.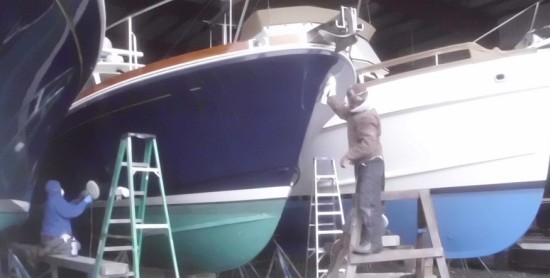 The decks on this boat are quite a fright at this point. It does give you an indication of how many bad seams there were in this area. With adequate reefing, cleaning, filling and smoothing this should last for many years before it needs attention again.
But we are working on other boats as well. We removed the props from some outboards on the Intrepid which need to go off to the prop shop.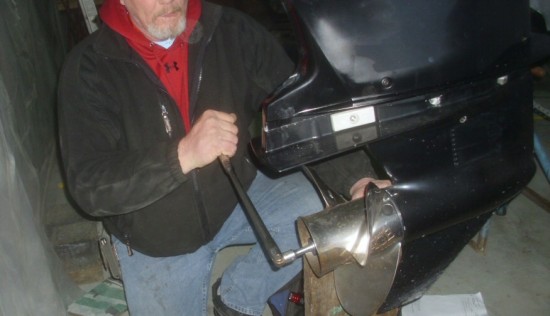 Not sure which boat this is, but I found this recent picture on the knock around camera. This looks like a mirror of the tray I showed from the Trawlercat. Doesn't anyone provide fiberglass pans with their equipment? That could be a good sideline for us.
I had to go out to the Grand Banks 47 to get some serial numbers off a piece of equipment which meant I needed lights. The breaker panel is located way down inside the boat and it is IMPOSSIBLE to see the breakers in the dark.  I had to use the flash on my camera to find the lights. This would be a good place for a light — or just carry a flash camera like me:)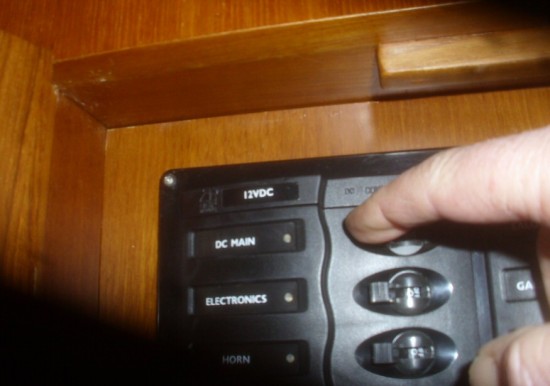 Anything Can Happen Friday
I love this concept. Almost a land yacht! httpv://youtu.be/hNxzBkz6a_g