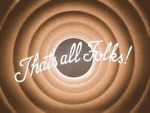 To paraphrase REM,
it's the end of the week as we know it
. For the most part it was a beautiful and very productive week. Several deliveries and most went smoothly. It is important to note that a sea trial during commissioning could pick up
problems that will not be spotted at the dock
. On a boat which we did sea trial, we spotted an exhaust leak after the engines got hot which would have been a dangerous problem. Consequently the sea trial lasted longer than anticipated and the boat was a bit late. Do other boatyards have this problem? (
hint: the answer is yes
) We seem to have 2 employee no-shows today – maybe trying to take advantage of a nice day before tomorrow's rain. In any case, this will set us back again which we don't need during the busiest time of the year. Of course, 
one of our most dependable guys
started off with bottom painting early today. Notice the reflection on the freshly polished hull!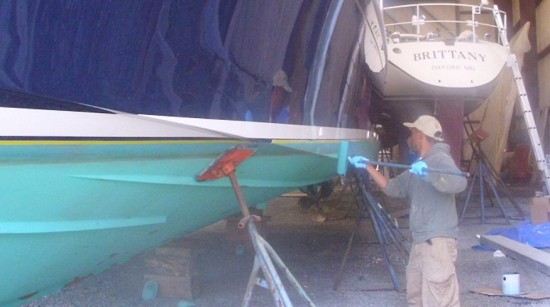 We had one owner who wanted bottom paint sprayed on his boat. Unfortunately, the bottom paint on the boat now is failing – brittle without good adhesion. A putty knife just knocks it off with no effort. Fortunately, the boat is small!
Spraying over bad paint is counterproductive
. If you are wondering about the yellow color, it is
Pettit Vivid
.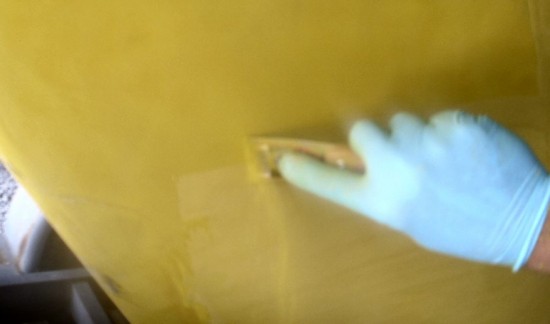 More pickups due for the weekend – most with various tasks still to complete like the oil change on this Sea Ray we did late yesterday. Not quite as comfortable as in a nice spacious engine room!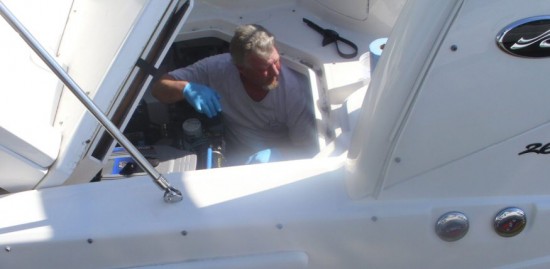 The soda blasters got the job done in a timely,
efficient
manner and the boat has been put back into the shed for a good airing out.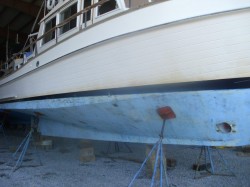 Anything Can Happen Friday
If watching
boat disasters
makes you feel good about your piloting skills –
be prepared to feel real good!