I wanted to think of a April Fool's Day prank for the blog but I'm not feeling all that inspired. We did have a good weekend with family and evidently
Easter is a good day to drink beer
because that's what all the guys did at my house. I found Carlos working his landscaping magic with the trees out front when I arrived today. It amazes me that he can free hand a perfect circle around the trees.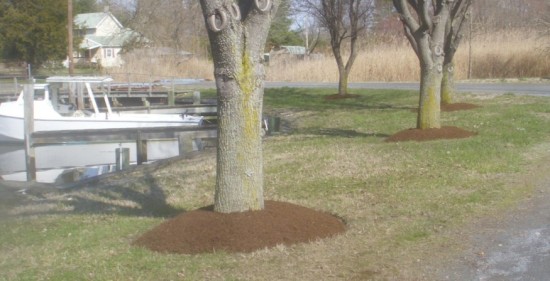 We moved the 47 outside today. There is still a bit of work do but we want to do the last coat of varnish out of the dust that is in the building and we are still a few weeks away from pollen weather (hopefully) due to the extended cooler weather we have been experiencing.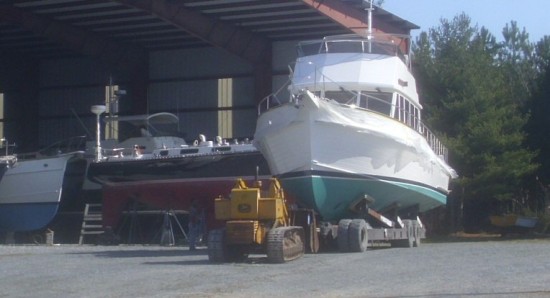 The spotlight bracket is ready for Awlgrip and believe me, it is smooth and the corners are perfectly rounded over. It looks like a molded piece.
I was showing the progress on the instrument console on Friday. This morning he was sanding smooth the glass that he put on the face Friday. He moved outside for this operation because nobody is happy breathing fiberglass dust.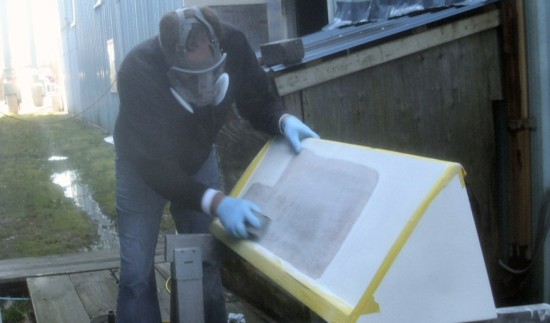 In this boat we had to move a transducer and patch the old hole. I'm sorry I did not get more photos of the progress – I'm not omnipotent though.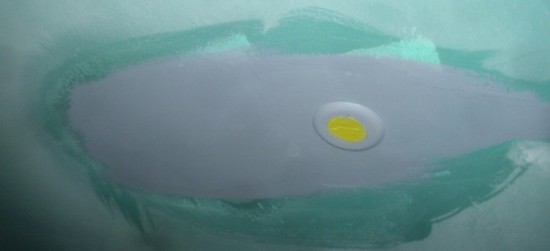 We also have more boats getting new electronics — which means more panel refacing. This one is getting an overlay over the existing teak panel.
Notice how the new 1/4″ teak panel is totally covered with masking tape. This stuff is very pricey and we don't want to take any chances scarring it during the work. I obviously hadn't bought any for a while because I nearly dropped when I saw the invoice.
Just for April Fool's Day
We haven't seen John much lately as he's busy with the new docks so I thought it would be fun to play Where's John (hint: he's right next to Waldo — maybe)