It's a beautiful day at the boat yard! Saturday we had torrential rains at times and plenty of wind which persisted into Sunday – although Sunday was sunny and warm. I spent the weekend building a pergola styled arbor over the new gate I put in last weekend which meant a lot of up and down the ladder and a lot of bending down – which today reminds of a line from one of my favorite movies –
The Matrix
– "
Why oh why didn't I take the blue pill!
" We try to stay vigilant against electrical problems which sometimes are just a result of a power cord like the one below. You can see corrosion has traveled up through the wire which will
cause shorting and low power output
.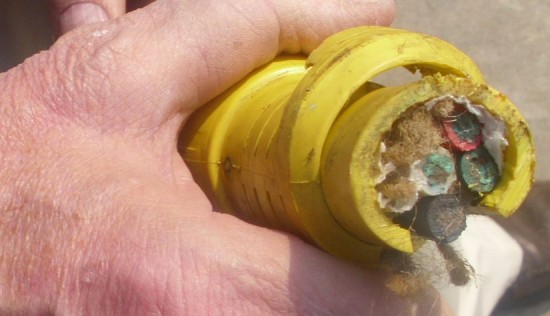 We have one customer who takes excellent care of his boat. We cleaned the heat exchanger last year but noticed it was nearing the end of its lifespan. Since he doesn't want problems down the road he asked us to replace it. He chose the upgraded
copper-nickle
model for extended life. It came in primed but when we painted it the paint bubbled all up. This tells me the primer was still releasing solvents. In fact, the primer came right off when we went to wipe the paint off with acetone. This allowed us to reprime with a zinc chromate which we prefer any way.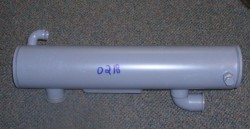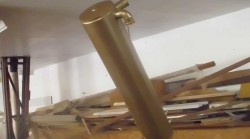 Kevin is starting to fill all the gelcoat cracks on this boat. Since the rails had been removed for this, it was a good opportunity to patch the varnish at the rail attachment points and give the boat a couple of coats of varnish. The two jobs were simply incompatible so he waited for the varnish to be completed before starting this – which will be pretty dusty with
gelcoat dust
.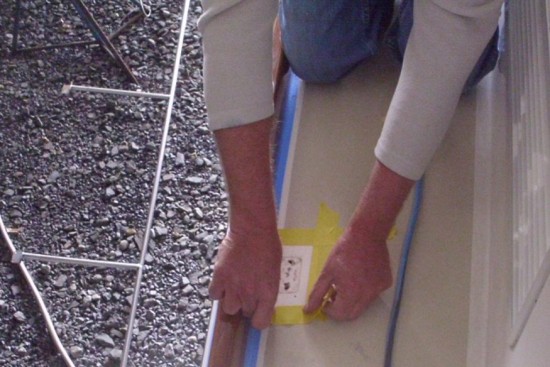 A recently sold boat had carved nameboards so when the owner needed to change the name we had to duplicate the existing boards – which are an odd shape for almost any boat. Since our guys are tied up with current spring workload, we outsourced these to Juniper Millwork down the street. These guys do
excellent work
!