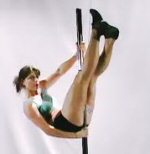 Happy May Day! The first of the month and a time to
frolic around the May Pole
. We started out early this morning with some thunder shower activity but it should be cleared out by lunch time and get
quite
warm this afternoon. Evidently there was more rain this morning than I thought since there were massive puddles outside the door. So we didn't start the day off with travel lift work  as we usually do but we did have to finishing a couple of boats that are scheduled to leave today. Some boats are a breeze to commission and on others multiple problems show up – some that may have been present in the fall but never mentioned by the owners.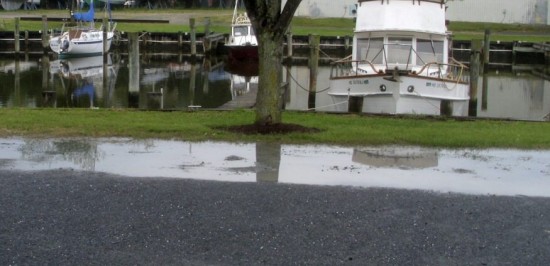 On a boat we delivered on Friday, we couldn't get the fresh water pump to run. Fortunately we had a loaner to get the boat through the weekend. Upon investigation we found the bearing in the pump head had seized up. Since the motor, the most expensive part, ran fine we tried shooting some corrosion buster in the bearing last night and sure enough it was moving freely this morning.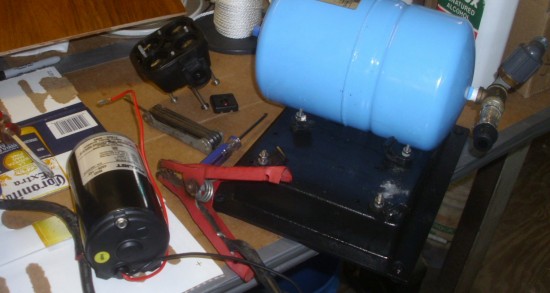 During the course of commissioning we always find problems that crop up during winter lay-up. One example is corroded light sockets. In the photo below you can see where one corner (upper right) of the base is missing – allowing water to get in and corrode things up. This is a good spot for some silicone or you could replace the whole light.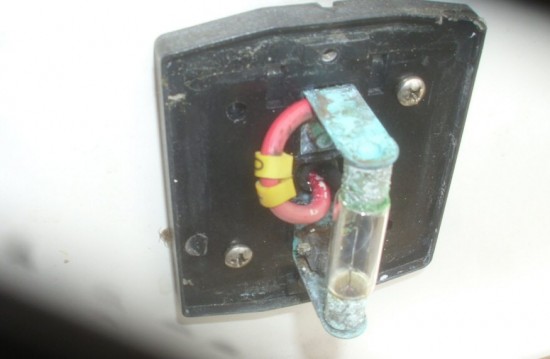 The little Bristol Skiff is being primed this morning. The other boat is already painted and will not require the priming. We did do a test spot on it to make sure the paint was compatible. It was so it is ready to shoot when we do this one.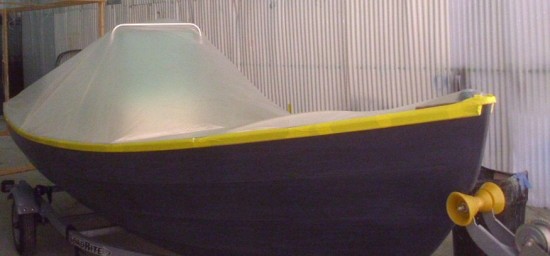 I had talked about getting the base from underneath a generator yesterday. I missed the photo of it coming out, but here is the base and why we used Herculean methods to get it out.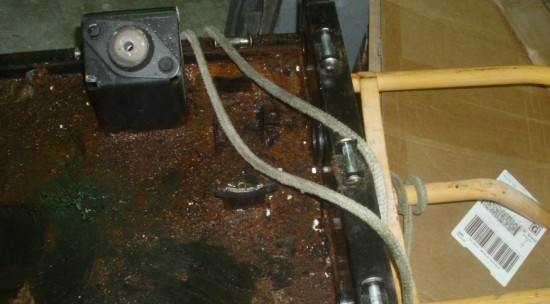 We also noticed that the sound insulation was in deplorable condition. We just happened to have some Soundown in stock that is the right thickness to replace this.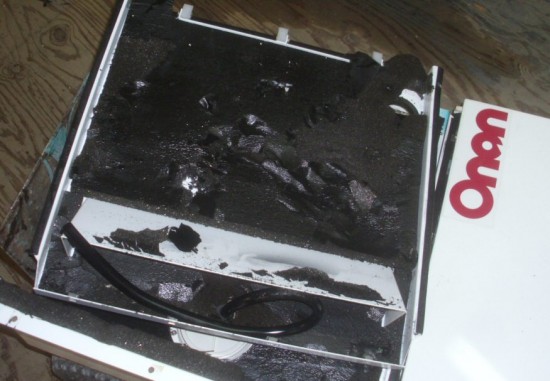 The guys didn't want to wash boats in the rain. I used to do it all the time because the boat is going to get wet any way, it is easier and  it saves a lot of rinse time. Plus the other work that needs to be done can't be done in the rain. They just need to learn to bring a rain coat if it is raining. Come on!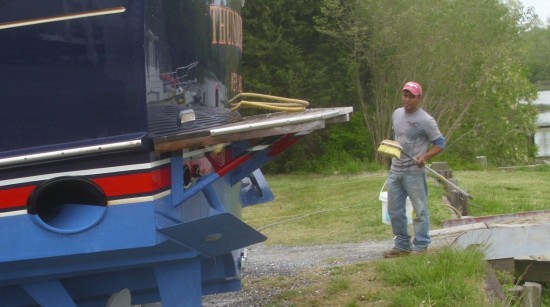 Angus was going to put the top coat on the Krogen this morning but now will have to wait a bit for everything to dry up. You can see where the build work was done for the patches.
Now That's A Big Beer!