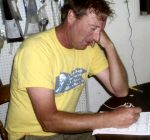 Only 4 days until the weekend!  We have some good jobs going on out in the yard right now including the bow thruster and the Awlgrip job and lots of smaller stuff that always seems to pop up. Also got another request for fuel tank pricing last night – the second this month. Do you think they are finding this stuff on the blog? The bow thruster tube installation could have been finished tonight but now it's not looking likely since they seem to have shifted gears. The tube is now glassed in place but needs to be shaped.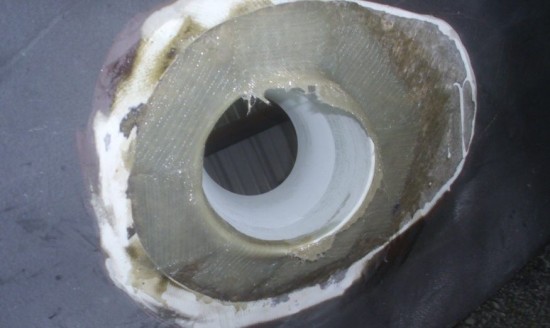 The key to doing this or any fiberglass job is to have all your materials ready — it's hard to cut fiberglass with sticky gloves and your scissors get all nasty!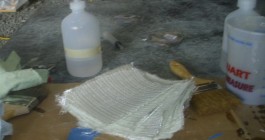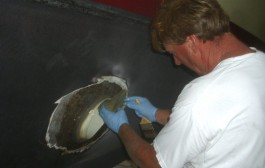 While the Eastbay was getting the engine work done, it was a perfect time to put on a mid-season coat of polymer — the more the better to keep that finish up to snuff.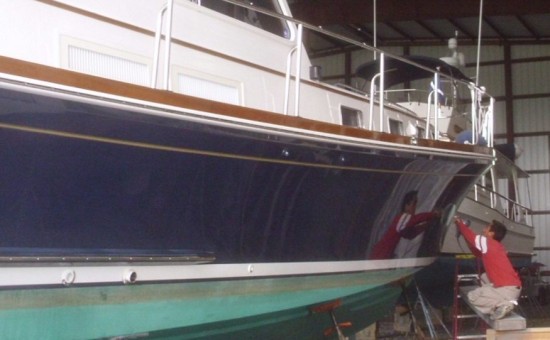 And if the hull is going to look good, shouldn't the waterline also be done. I noticed that a lot of the thru-hulls are missing paint. It is also a good time to take care of these. Hopefully they will use a little metal primer on these when they touch them up.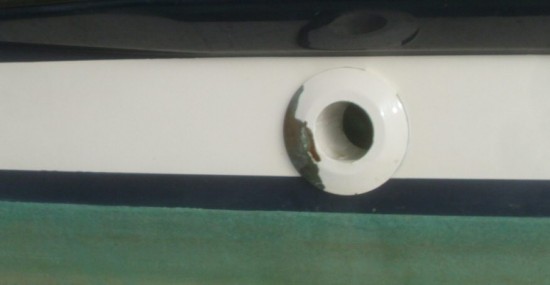 On the mystery Eastbay 49 I noticed a different kind of line cutter than we are accustomed to. It seems to have no other parts– the whole thing is the cutter. I also noticed that he needs some of our Pettit Barnacle Spray for his props! Still no word on why the boat is here.