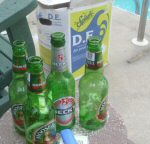 Errata
:
I misplaced the decimal in my calculations yesterday so a four day weekend is actually 200% better than a 3 day weekend – not 20%. My apologies if you used that information for something important.
To the left you can see how I spent a good portion of my 3 day weekend – with another one coming up this week. Hopefully it will be a good weekend cause for the rest of the week it feels like rain. Even though there are not many boats left in the yard, the ones that are here all have work to be done and lots of them want to take advantage of the aforementioned 3 day weekend.
The prep for the Albin paint job should be done now. They were taking care of details yesterday – like getting beads of caulking from under the rubrail. These kinds of details make the difference between an average job and a stellar job.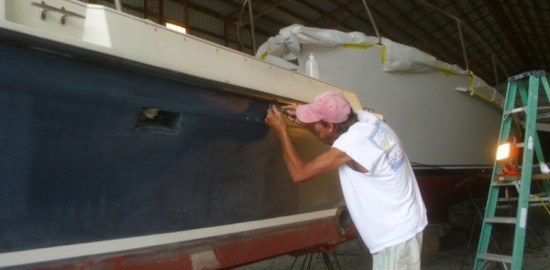 The repairs we did to the hull don't look like much but pass the blind test. If you close your eyes and just feel the hull they don't exist. After the primer goes on you won't be able to find them.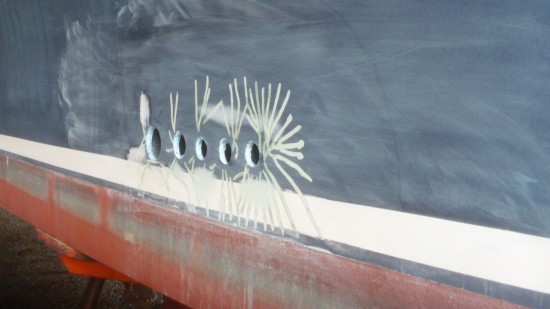 The Bertram also needs to be done for the weekend. We have finally freed Kevin up to do some spray work on it – which means lots of sanding to get a good job. We found several layers of old paint on these parts.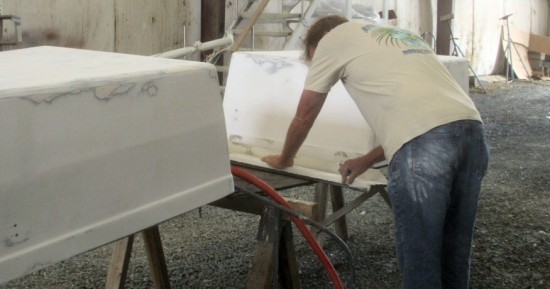 He also gets to use his new sander. This is a self generating vacuum sander by 3M. There are more expensive sanders that do exactly the same job but the key word is
same job
.