We are finding more boat owners who love our process for laying their boats up in covered and heated storage the "EASY WAY". With our two facilities, the marina in Oxford MD and our Dickerson Harbor boatyard in Trappe MD, we can offer a stress-free, simple, and easy process for winter storage.
Your boat will be fully protected from the hazards of winter in our covered or heated storage sheds. Our process starts with a 2 to 3-day relaxing stop in our Oxford MD Marina, an Active Captain 5-Star rated facility, to offload and unwind.
The parking lot is not more than 50 yards from your boat which makes the unloading process much simpler

Oxford is a great small town. It offers 5 great restaurants, a world-class ice cream shop, beautiful walks along the water, church bells as the only sounds much of the day, and zero traffic

Easton is a full-service city only 10 miles away offering everything from a West Marine to a Lowes home supply store, and more
This is a great time to inspect your boat and discuss the worklist with our staff at the Dickerson Harbor boatyard if you need repairs or preventive maintenance while your boat is stored for the winter. To do this in a leisurely fashion makes the chore of getting the boat ready for storage so much easier and you are a lot less likely to forget things. Our customers say they look forward to this time of year when they can put their boats to bed, know that it's fully prepared, and they have everything off and ready for long term storage.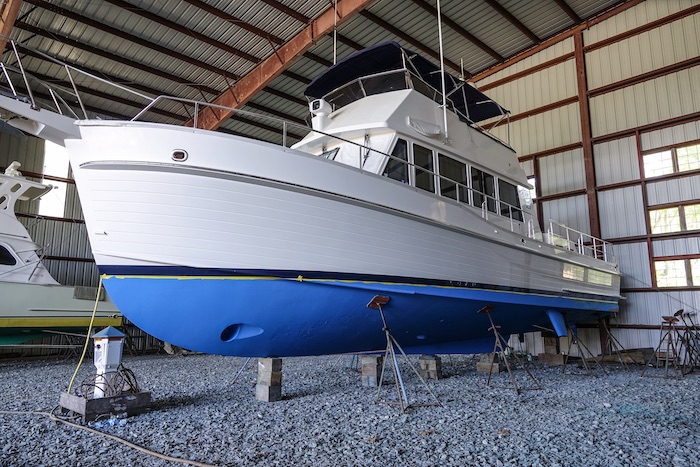 Once you have finished offloading and other in-the-water preps, it's time to make the 1-hour cruise around to our boatyard at Dickerson Harbor in Trappe MD. This is a great time to take someone from the boatyard to see or hear any problem areas first-hand. It can make sure we fully understand the issue and you will have confidence it will get fixed right the first time. No sense wondering about it all winter.
We will put you in the travel lift slings for the night and let you work on the almost-final part of your offloading. You will have full shore power in the slings and water to run your heating and air conditioning. You can park your car right next to the boat for easier offloading. Grill a steak and enjoy Trappe Creek which is often full of ducks and geese in the fall, making your night here a bonus joy!
The next morning, we will pull your boat and block it for the winter in one of our covered or heated sheds. We will hook you up to shore power and provide a ladder or whatever else you need. Once we get your boat power washed and blocked, we can do an external inspection together and be sure any work or concern items are identified.
You can then take as much time as you want to finish the very final unloading, and button up the boat like you want it for storage. We will complete the winterizing after you leave using our proven checklists that are guaranteed to protect every system on your boat if you decide to use covered but not heated storage. Once you leave, we are happy to send you any pictures you need or check up on anything you forgot like that loaf of bread in the pantry or extra breaker you turned back on just before you left.
Our job with winter storage is to make it 100% safe for your boat and also to make it a pleasant, stress-free experience for you and your family. With our experience and top-rated facilities, we can turn this into one of the pleasurable boating experiences. You will look forward to spring with full confidence knowing your boat will be ready when you are.
Don't delay, we have already started putting up boats for winter and our storage spaces are filling up fast!
Contact us at the Oxford Yacht Agency at (410) 822-8556.