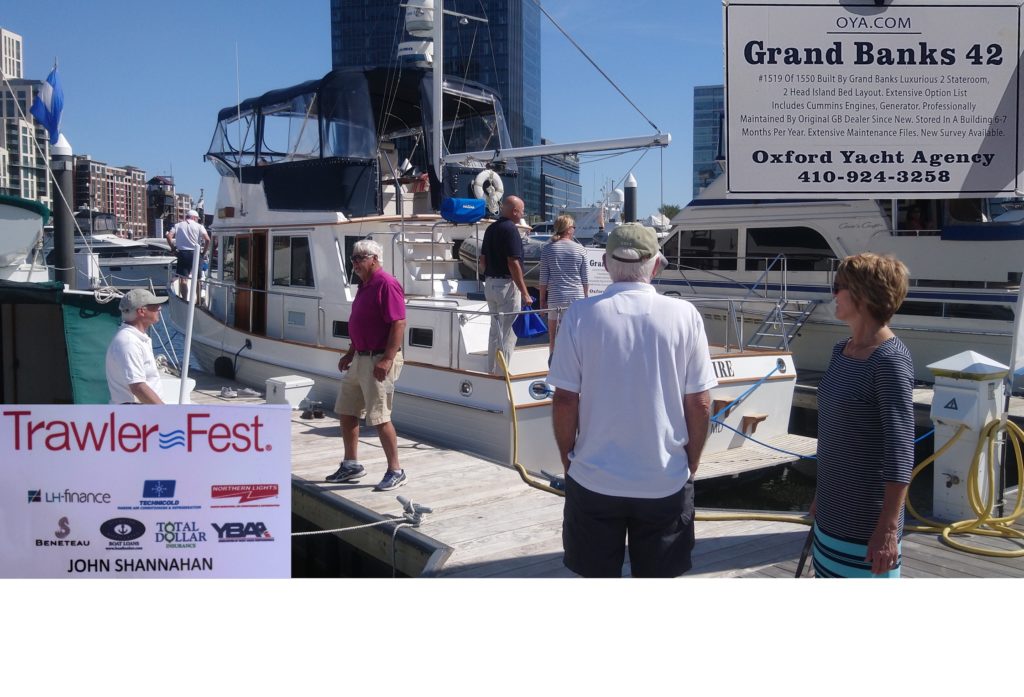 Welcome to the "Lena Victoire" at Trawler Fest 2019. The weather is outstanding! No clouds, high 70s with light breezes and lots of sun. We are enjoying welcoming some great folks from NY, PA, IL, WI, MA, MS, CT, MD, WV, MI, and DC.
Thanks for all your interest in Grand Banks 42s, 46s, 49s, and 36s. This is the second year in a row for Trawler Fest at Harbor East in Baltimore. It is turning out to be one of the most successful Trawler Fests I have attended in 25 years.
"Lena Victoire" is very special because her hull number is 1519 which makes it a member of the final group of 35 GB 42 Classics constructed by Grand Banks in 2003. Her 325 HP Cummins engines, food grade water tanks, beautiful interior teak veneer, and Burmese teak timber joinery finished perfectly are a few notable details.
Lena Victoire is one of the lowest maintenance Grand Banks ever built. Another great plus is the extensive documentation that exists. It allows an excellent opportunity to look into its operating procedures and costs to maintain this beautiful boat.
I also offer the Grand Banks 42 Classic "Penultimate" for charter on the Chesapeake Bay. The cost is $3,500 per week. With this we provide the boat for a full 7 days plus 1 ½ days of our "Trawler School" at no charge.
You need to arrive the afternoon of two days before you start your charter. This course covers the Grand Banks 42 systems in depth. All mechanical, electrical, electronic systems, docking, generator, air conditioners, engines, filters, dingy launching and more are covered. The training is conducted at the Oxford Yacht Agency, 317 Morris St. Oxford MD.