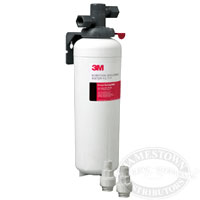 Like most people, your concerns about water quality have probably increased over the past few years. Daily, there are news reports on water contaminations. In addition, you face special challenges: every time you reach a new location and hook-up to the water supply, you meet a new set of water quality conditions. The 3M WV-B2 Recreational / Marine Filtration System can be installed in your RV, Boat, or home to provide clean, high quality drinking, cooking, and bath water. Save space and money on storing bottled water and install your WV-B2 System today! Part number 5616207.
Benefits of the WV-B2
:
Minimizes Concerns regarding biological contamination while improving the taste, smell & clarity of your water
Connects to Your Existing Faucet or the Main Line on your Recreational Vehicle or Boat
Saves On Cost and Storage of Bottled Water
Sanitary Quick Change Design
Easy Installation (20-30 Minutes)
WVB2 Specifications:
Reduces Bacteria up to 99.99%
Reduces Algae up to 99.99 %
Reduces Parasitic Protozoan Cysts up to 99.99%
Reduces Mold Spores up to 99.99%
Reduces Chlorine >95%
Reduces Sediment, Dirt, Rust, Sand, Silt down to 0.2 Micron
Patented Dual-Zone Nylon Membrane Bacteria Barrier
Patented Carbon Block for Improved Absorption
1/2″ Connections
2.5 GPM Flow Rate
7500 Gallon Filter Capacity
11 7/8″ x 3 1/4″ x 4″
The WV-B2 Includes the following: Filter Head/Bracket, one Model B2 Cartridge, 3/8″ Tubing, MPT Fittings, Push-In Faucet Adaptor, Stem Reducer, Elbow Fitting, By-Pass Plug and directions. Additional tools such as tube cutter, adjustable wrench, and pipe thread sealant tape may be required. Filter life will depend on water quality, usage, and the capacity in which the filter is installed. This should be a good DIY project with great results for making your boating more pleasurable. Available at
Jamestown Distributors
.