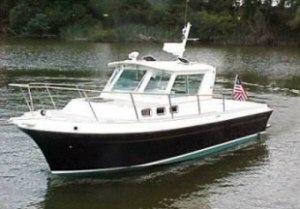 I have been asking our sales department, co-workers and customers the same question — what is the best boat for the Chesapeake Bay. Maybe it's not a regional thing at all, but it is the area we operate out of and everyone should have an opinion. The real answer lies with how the boat is typically used on the bay — not in the boat itself.
How are boats typically used on the Chesapeake Bay?
This is as hard to answer as what is the best boat for the bay.  Let's eliminate boating done outside the bay for argument's sake, and stick to boating done in the bay.  I know a lot of boaters — it's the line of work I'm in.  I almost eliminated infrequent users in our model, but after the initial thought, I realize that, with the boaters I come into contact with,  infrequent use may be part of the overall picture for the perfect bay boat.  We are not going to be concerned with fuel pricing or economic issues in this discussion.  And since this model is based on what we as a marine repair and sales facility are involved with, we are going to skew the data and leave out trailerable boats, which seem to be like the illegal aliens of the boating world – too numerous and unobtrusive to be counted. Instead we are considering boats that take dock space — either private or public; primarily inboard boats; and vessels that involve normal maintenance and upkeep.
So how are these types of boats typically used.
1
. As I mentioned before, many are like a neglected pet — tied to the dock waiting for bit of occasional use. This group of people may only like to go out when they have guests to go along. So we should add some cockpit space to accommodate a bit of socializing.  Since plans are usually made in advance, we may want to add some cockpit cover of some sort — either canvas or hardtop, so that if the weather takes a turn your guests will still be comfortable.
2
. Short jaunts are the norm here on the bay. Maybe just to take a spouse out to dinner for the evening or to take in firework displays or other local events.  So perhaps some speed will be in order for our model. Either to shorten the trip or to beat bad weather back home.
3
. Many marine services are based on boat length — for example slips, haulouts, etc.  So to keep the costs at bay (no pun intended), we are going to keep the boat at about 32 feet or less — no sense in overkill for short jaunts.
4
. While entertaining, or if an occasional overnight stay is planned, we will need a way to cook. So let's throw in a galley (and of course a head).
5
. A lot of the most beautiful part of the bay is in shallow waters, so we don't want to limit ourselves to deep water cruising. Let's set our maximum draft to less than 4 feet (less would be better, but with an inboard engine — especially in the range we are discussing,  this is hard to achieve.)
6
. The bay is teeming with seafood, so we will probably need to take this into consideration (although most of the boaters I know prefer to purchase seafood). This brings us back to a large cockpit and some sort of storage in the cockpit. Also the cockpit needs to be long enough to store fishing rods or alternatively, room and racks on the hardtop. And there you have it. My interpretation of the perfect bay boat (which, by the way, is exactly how I would use a boat if I still owned boats).  Since we have not listed any manufacturers in this discussion, it would be interesting to hear comments from those who own boats here in the bay. Please list what boat you have and why you bought that particular boat. Potential buyers want to know!