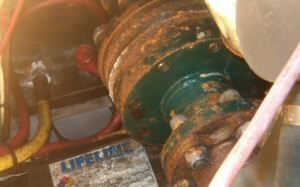 There are many parts on a boat that are not stainless steel. Most of these would be add ons to a marinized part – such as an engine, or maybe brackets for mechanical parts. In any case, any non-stainless metal in a boat will eventually rust. Where there is rust, there is a boat that is not maintained properly. To tackle projects such as rusty shaft couplings, which are almost always made of steel, you first need to remove the part from the boat. With it off the boat you can be more aggressive with your clean up techniques. The key is to get all the rust off, not just the visible rust. Any rust that is left on the part will encroach on the clean part almost immediately. To clean the parts, we prefer blasting the rust off. Depending on the part we are doing and how large it is, we will use either a sand blasting machine or our bead blasting cabinet – which will only work for smaller parts.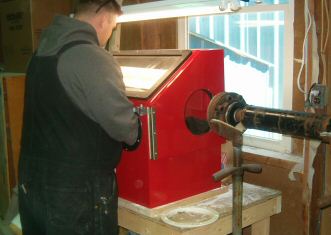 As you can see in the photo to the right, we have added an inspection port in the cabinet which allows us to blast longer pieces by doing half at a time. After getting the parts clean, it is important to prime them right away with the right metal primer. If that is not possible, they should be coated with a metal protective coating to keep moisture in the air from starting the rust cycle from starting. After we have them clean we will use different paints depending on the application. If they are engine related parts, we have to use high temperature paints and primers. Brackets and the like will often be painted with a high quality enamel or even Awlgrip – once again, depending on the application.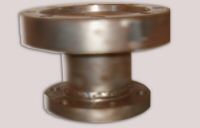 A good paint job should last for years if the preparation is done right. If you have metal in your boat that is only
slightly rusty
, you should be able to clean it up with sandpaper, acetone and coat it with a product like
Boshield T9
. The problem with coatings is that you have to continually coat as they have a very limited life span. Remember, any unattended rust problems will continue to deteriorate the part, travel to adjacent parts and devalue your boat. We can also tackle engines with rust problems. See our posting on
engine makeovers
.