Many people budget for boat payments and perhaps insurance but neglect to take into consideration the maintenance cost of owning a boat. The following is a short list of regular maintenance items:
Bottom Painting
Haul-outs
Varnish Upkeep
Miscellaneous Painting
Engine maintenance – oil and filters
Winterizing
Compounding and polishing hull and superstructure
You will also find that as boats reach a certain age, they require systems repairs and upgrades. The hull and superstructure of your new vessel will (hopefully) outlive any system found in it. After 5-8 years you
may
be looking at replacing:
Sanitation Hoses
Outdated Electronics
Fresh water pumps
Engine raw water pumps
After 9-12 years you
may
be looking at replacing:
Exhaust Hoses
Engine injectors and/or injection pumps
Canvas
Docking gear (lines, bumpers)
The Big Picture
The following represent a range of typical hours required to perform maintenance at upper end quality marinas. Such figures are based on averages and your actual time will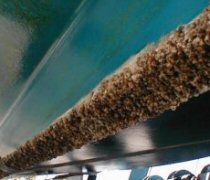 depend on the condition of the boat at the time the maintenance is performed.
Bottom Painting
Don't be led astray by alluring cheap estimates for bottom painting or cut corners if you do your own. The bottom needs to be sanded, scraped where necessary and spot primed. It is also necessary to pull all the seawater strainers off the boat to clean out the accumulated crud and apply paint to the inside to avoid getting barnacles inside the strainers. Shafts and props need to be scraped free of barnacles and then sanded smooth. The paint work needs to be meticulous – getting into every area, including under the keel, and then touched up when the boat is lifted off it's jackstands.
| Task | Hours 36′ Boat | Hours 42′ Boat | Hours 49′ Boat |
| --- | --- | --- | --- |
| Prep bottom (sand, scrape, spot-prime) | 1 – 2 | 3 – 4 | 5 – 6 |
| Clean props and shafts – remove barnacles | 1 – 2 | 1 – 2 | 1 – 2 |
| Change Zincs – shafts, hull, rudders | 1 – 2 | 1 – 2 | 1 – 2 |
| Paint Bottom | 3 – 4 | 4 – 6 | 6 – 8 |
| Remove, clean, paint strainers | 1 – 2 | 1 – 2 | 2 – 3 |
| Approximate Totals | 7 – 14 | 11 – 18 | 17 – 24 |
Varnish Upkeep
Teak is the "perfect" wood for marine use. No other can match the unique qualities of teak for standing up to the marine environment. But the properties that make teak so hearty for marine use are the same properties which make it hard to maintain. Teak is an oily wood that requires the proper maintenance to retain is beauty. Unfortunately, the oil rebels against coverings and will only be subdued by constant maintenance. Starting with a sound base, varnish is not that difficult or expensive to maintain. It's when the varnish gets to a stage where it needs to be stripped that it gets very expensive. Be sure to inspect and touch up as soon as possible any intrusions on your varnish. After water is allowed to enter it will travel beneath the varnish and continue to ruin the bond. The figures below are very vague approximations as the amount of teak varies from boat to boat.
| Task | Hours 36′ Boat | Hours 42′ Boat | Hours 49′ Boat |
| --- | --- | --- | --- |
| Strip/Scrape to bare wood | 20 – 25 | 25 – 30 | 30 – 35 |
| Sand smooth | 10 – 15 | 15 – 20 | 25 – 30 |
| Sealer coat | 4 – 6 | 6 – 8 | 8 – 10 |
| Sand Smooth | 5 – 6 | 6 – 8 | 8 – 10 |
| Build to 6 coats* | 25 – 30 | 30 – 35 | 35 – 40 |
| Approximate Totals | 71 – 96 | 96 – 129 | 129 – 149 |
Waxing / Compounding
This will be hard to estimate as it varies with the condition of the surfaces. For gelcoat that has been properly maintained, an annual wash and wax will be sufficient. If let go the surface will need to be compounded first. A good procedure to follow is to wash the hull down with fresh water after every use. The salt acts as an abrasive, taking the wax off and eliminating the protection. For more on compounding and polishing, see "
We All Shine On
."