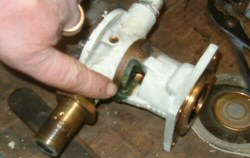 We do a lot of raw water pump work here, but evidently not enough because we see bad pumps and impellers all the time.  Changing impellers should be part of your annual maintenance schedule as well as a per trip visual inspection for leaking pumps.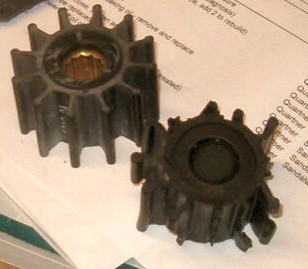 We often get people ask us to change impellers. That won't happen unless the impeller is one of the 4-5 hundred dollar kind. When we pull the cover we are going to throw a new impeller in. If the old one looks like it may have some life in it, we can save it for the customer to use for a spare. Most of the cost of the job is labor, so it doesn't make sense to not put the impeller in – and it's good insurance. To the right you can see an impeller we pulled on a generator along side the replacement. As you can see, this impeller has not been checked for quite a while. Not only do impellers like this cause your engine to run hot, you can see that part of the fins are missing. Where might they be? In the pump to the left you can see where part of the fins on that impeller ended up.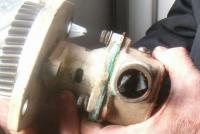 This situation is throttling water flow to the engine quite heavily. Additionally, these are just the parts that were too big to travel up the hose.  The smaller parts are probably up in the oil cooler or heat exchanger. When this happens, the system will have to be explored and all those parts retrieved or then engines will never have proper water flow.  This is just a $40 impeller on this pump, but it will cost hundreds of dollars to rectify the problem it caused – which could all have been avoided by an annual impeller change.
Leaking Pumps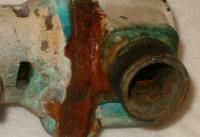 How can you tell if your pump is leaking and what causes a pump to leak? It is easy to tell if a pump is leaking simply by watching it in action. Also, you will probably see tell-tale signs such as green corrosion and rusting – both on the pump and other equipment beneath it. To the left is a pump that has been leaking quite a while. My initial impression is that this pump will be cheaper to replace than to repair. Most pumps have a minor and major repair kit available. The minor kit consists of impeller and just a few gaskets that are standard maintenance. The major kit includes the actual shaft seals. These kits will repair most pumps unless the shaft is scored.  A scored shaft will allow water to weep out around the seal. If the shaft needs replacing, the pump is trashed. In addition to the installing the repair kits, any good mechanic will clean and paint the pump. If there is any rust on the pump, it will continue to erode the pump just being in a moist environment. What would cause a shaft to score? The most likely culprit is sand or debris that gets by your strainer.  Strainer maintenance, however, is a whole separate subject. Suffice it to say, the strainer exists for a reason. Let's change those impellers and check those pumps – for the health of your vessel!