When your gelcoat finally gives up the ship, it is time to revive the finish. The best way to accomplish this is with Awlgrip or Alexseal marine paints – which is the marine industry standard for refinishing work. We have been turning out hull and superstructure paint jobs for years and the boats finished with it are still looking good today. Also by applying a painted finish, you can choose a wider variety of colors and paint schemes to satisfy your own taste.

The secret to a good Awlgrip job, as with any refinishing project, is the preparation for the coating. You can figure that 80% of an Awlgrip job is preparation work. Also, consider that if you are painting above the hull, most of your hardware will need to be removed and reinstalled when the job is complete. Other parts that can not be removed (such as windows) will need to be masked off and taped. The first step is to clean the surfaces to be painted throughly. If you just start sanding, it will often melt grease and oil into the surface. You must always use the proper cleaners, if for no other reason, to assure the company will stand behind their product. It is also important to use the right tapes and masking for the job so paint does not wick underneath the tape. Preparation is very important in getting a good job. No steps can be skipped or done too quickly. Also important is the quality of the compressed air the spray gun is fed. If you have oil or water in the lines, your paint job will suffer. The spray gun should be of a high quality and have the proper size nozzle to get the perfect finish.
It is important that all surfaces are flat before the primer is put on. For slightly irregular surfaces, we can use a high build primer and flatten the surface afterwards, but if the surface is not fairable using that method, fairing putties will have to be used before the high build primer. Nothing makes more of a dramatic difference to a boat than a new paint job. Usually you will increase the value of the boat more than the cost of the job and you can have a look that is as unique as your personality.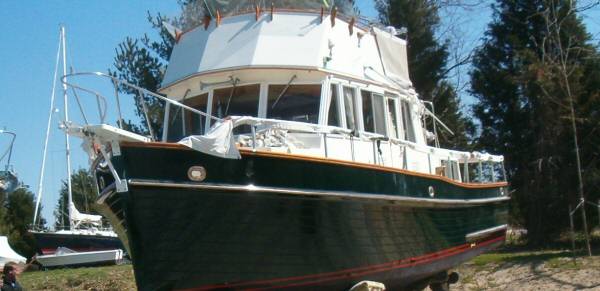 Maintenance of your new Awlgrip is much easier than a gelcoat finish. Simply wash the hull as needed with a mild soap. In fact, Awlgrip makes and Awlwash concentrate made for cleaning Awlgrip – although it is not necessary to use their brand. They also make a polymer finish that can be applied to help protect the gloss. To get an idea of the colors available, visit the
Awlgrip website
.