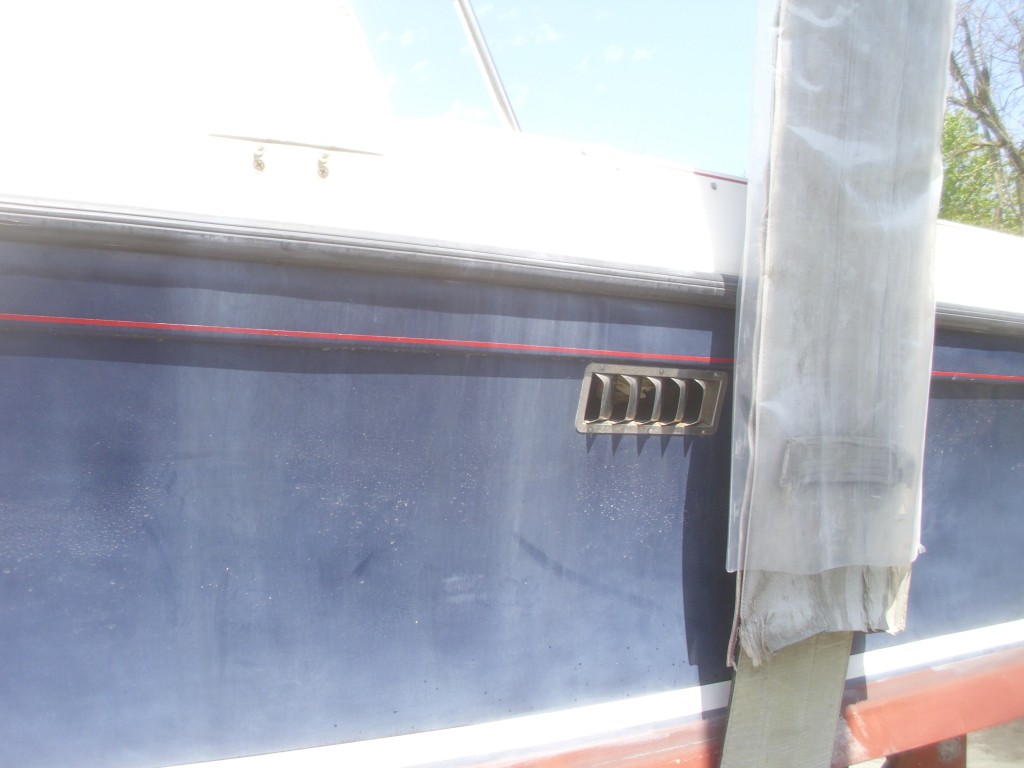 If you have an Albin 28 with dark colored gelcoat you may find that it takes more and more time to bring it back to a shine and eventually that will be impossible to achieve. We took this to task and gave this Albin 28 a new lease on life by painting the hull with Awlgrip finish.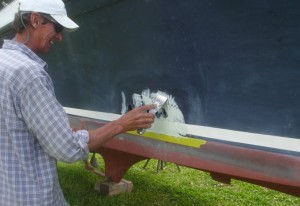 This particular boat also had some stress cracks at the thru-hull area and several other places in the hull. These needed to be dealt with before any serious finish work could be done.  When dealing with these sort of cracks it is impossible to fix them correctly without actually grinding them out wider. If not, you can't get enough filler in the cracks to actually stay in. We ground the glass back where necessary and merely widened and deepened the cracks in other areas. We use exclusively 3M High Strength Filler for applications like this. If there is already epoxy on the repair you will not be able to use that filler however, since it is vinylester based and is not compatible with epoxy products.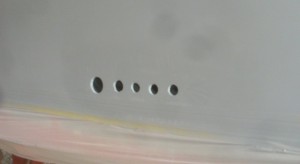 Next we gave the boat a heavy coat of Awlgrip High Build Primer after a thorough sanding. This gives us the ability to sand more where the repairs were done. Had we only used normal Awlgrip 545 we would have sanded right through anywhere we had the filler in an attempt to fair it to the rest of the hull. Next we gave a coat of normal 545 which made all repair work disappear. This coat will also need a bit of sanding to help the top coat to adhere properly. You don't want to skip any sanding if you want a job that is going to last. It is also important to wipe down all dust with the proper Awlgrip product. Dust will create weak spots in the bond. We elected to use Awlcraft 2000 which is a repairable product. It doesn't have quite as long of a service life as pure Awlgrip but has the advantage of being "buffable" which helps if you miss spots, get runs or if the boat is scratched during it's normal usage. The shine is still there and the customer now has a maintenance-free finish.
[print_gllr id=484]