Decks are a constant topic of conversation with our customers. We basically see two kinds of decks – wood strip (teak) or painted non-skid over fiberglass. Both have their own benefits and drawbacks.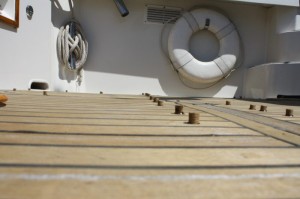 Teak decks
are usually cooler to walk on but are harder to maintain. Many people actually ruin the decks by over-cleaning them. Never use harsh two part chemicals on teak. Although teak is a dense hardwood, it does have soft grain in it. When you use harsh chemicals or two-part cleaners, you start eroding the soft grain, leaving the harder grain, giving the wood a "3-d" look. In addition, many cleaners begin attacking the rubber between the planks. This is evident when you start seeing the rubber separated in spots. This separation allows water to start seeping under the wood – and although teak itself is not prone to rot, any water under it will find it's way into a screw hole or cause more loosening of the deck. After a deck gets to this point, it usually needs to be sanded. This may work a couple of times but soon the deck becomes so thin, it is impossible to keep teak plugs in. Sanding the decks is expensive for many reasons. As you sand, more plugs tend to pop out. When a deck is thin, the screws need to be removed and set deeper to allow enough room for the hole to hold the plug. You can assume maybe 10 minutes for each screw, how many screws are in a deck on say a 36 foot boat? Do the math. Also as you are sanding you will find rubber voids and detachments that have to be dealt with.
Painted decks
are cheaper to maintain but also have drawbacks. They are not comfortable to walk on in bare feet because they usually get hotter and there is non-skid material which is very rough. And although they are easier to maintain, the paint will not last forever when you have foot traffic. Still, the cost of refinishing a painted deck will cost you probably half of what the cost would be of refurbishing a bad teak deck.
Making the switch.
We have one job in progress making the switch to Awlgrip painted non-skid decks. You can see the
work in progress
.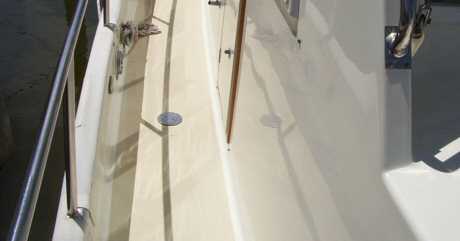 Above, an Awlgrip non-skid deck.