If you still love your boat, but regret not getting the hard top or if it was not available for your particular boat, there is a solution. We have seen many aftermarket hardtops that look like an afterthought. Our goal is to make one that blends seamlessly with your design and looks like original factory construction.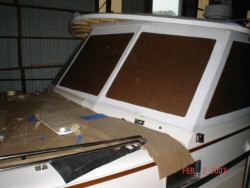 This has been a long-term project that we began in the winter of 06/07. We experimented with plywood mock-ups, trying many different scenarios. Using thin plywood allowed us to tweak, bend, test and analyze all the different ways the top could be built to maximize it's usefulness and overall appearance. When we had something that we thought would work, we went so far as to launch the test boat with the mock up on it to see how it would look out on the water. Believe me, there were some serious hours put into this phase! Our plan all along was to do the first one on an Eastbay 38 Express that we had taken in trade against a 49. The 38 that we took on trade had one of the aftermarket hardtops that just destroyed the resale value of the boat. Since air-conditioning is a highly desirable option to most of our customers, it made sense to convert this to boat to a hardtop rather than back to a convertible.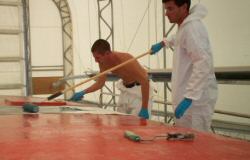 The mold being constructed
Due to a high load of service work, we had to put the project on hold when spring arrived. At that point we had a customer who was highly interested in the whole concept and was ready to replace a Grand Banks 46 that we had sold for him. The 38 was the perfect size for him. We got back on board late in the summer and had it hammered down to a point where the molds could be made for the top. The top we had designed was versatile enough to be used for various boats and not just the 38 – which is exactly what we need, since we plan on marketing this customization. Now that we had the capability to begin real work, we wasted no time getting the first part off the mold and setting it up. We began by removing the electronics, old framework and windshield from the 38. We needed to set the top in place to set up patterns for the cabin sides. This we did on 2×4's. We patterned out the cabin sides and will use those to cut out the actual parts from fiberglass panels. Since we have seen literally thousands of hard top boats in here, we know what works best. What we were looking for is:
Easily insulated interior for air conditioning
Nice looking, low maintenance windows
Good visibility for the helmsman
A natural addition to the existing structure
Strength and durability
The pictures below show how the final product will look at completion.