If you take long trips, you can appreciate comfortable seating for the helmsman. The standard Grand Banks helm seating is not all that comfortable, is pretty low and frankly unattractive. There are alternatives however that will give your helmsman a boost.In the photo above the owner wanted a double seat. This one we had custom-made and it sits atop double pedestals. His requirements were:
Add extra height to the steering station
Add comfort for long term cruising
Make the seat wide enough to hold two people
Make the seat slide back far enough for the driver to stand and steer when desired
Make the seat look as close to OEM as possible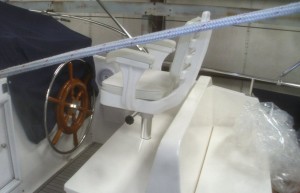 All these goals were achieved but being so customized it was not a cheap job. There are ways to do this cost effectively – especially if you don't need a double seat. The following uses a stock chair available at West Marine or other boat retail stores. This owner had a problem seeing over the helm with the large electronics screens he liked. He also liked the idea of being able to turn around when he had guests aboard to be a part of the socializing. His requirements:
Rise him well above the navigation equipment
Be able to turn to face guests
Retain storage in the settee base
Have the seat removable when not needed
Have a fold away footrest
This was a easy project. All objectives were met by cutting a hole through the existing seat top and mounting the pedestal base inside the locker. Hardly any space was lost in the locker and the pedestal releases from the base for storage.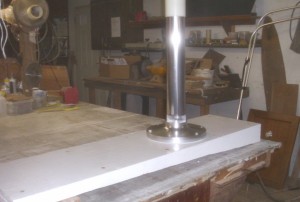 There are some points to keep in mind. The base needs to be firmly mounted to a level service. You will find some deck camber inside the settee and if you don't address this, you will be seated at an angle – not good for you or the seat. The simplest solution was to build a new base with the camber cut in the bottom. In the photo to the right you can see the new plywood base. This was cut to a template made to match the deck camber. All open grain was sealed with epoxy and then painted with a good marine paint. The seat base was through bolted to this and then the plywood was put down in the bottom of the settee with adhesive caulk and bolts. You also have to very careful to cut the hole in the seat top exactly in alignment for it to look like a professional installation. It would be possible to cut the lid down the center to be able to access the storage area with the seat in place. If you take the seat off, you can just put the cushion back on and it will be just like it left the factory.