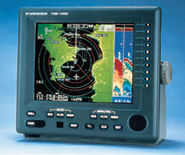 This unit packs lots of navigation capability in a user-friendly package A chart plot overlaid by radar will likely be the most popular FRS-1000 mode. Combining readings from a vessel's radar, sonar, chart plotter, GPS or DGPS, hull-speed sensor and water-temperature sensor on a single screen can make excellent sense for operation, installation and economy. Ultimately, the usefulness of any system of this type depends on the readability and overall quality of the display screen and the convenience of system operation and display controls. The FRS-1000 accounts for itself well in both areas. The FRS-1000 display screen uses a 10.4-inch diagonal, 640-by-480 pixel TFT LCD. It is bright enough for use in any shaded location but unsuitable for use in direct sunlight. The wide choice of colors for various data items also makes the display more readable in most light conditions. The system's handheld remote control is outstanding, making it possible to place the display in an optimum viewing position without sacrificing access. All system modes and options can be enabled from the handheld. Functions are clearly identified on a 12-button keypad. The hardware consists of two basic components: processor and display. Typical system input devices include radar, GPS/DGPS and a sonar transducer. Data is also accepted from a heading sensor and a hull speed/temperature sensor. The display unit can drive as many as two additional sub-displays. Four operating modes are available, selected with control buttons on the display or with the remote. The primary modes are radar, plotter and sounder, plus a number of combined-data display modes. Information from any single data source is presented on the left four-fifths of the screen and is normally accompanied by navigation data on the remaining one-fifth. The combined display modes allow a choice of any two or all three data sources (radar, plotter or sonar). Chart plotter with radar overlay likely will be the most popular combination, accompanied by the navigation data. At a touch of the controls, sounder data can be substituted for navigation, providing a 3D image of the vessel's relative geographic position. Switching between the sonar and navigation data displays is rapid, ensuring the navigator's ability to keep accurate track of the vessel's movement.
RADAR
Available radar sensors include the FRS-1000A, a radome-housed, 4kW nominal power, 36-mile range unit; and two open antenna array units, the 4kW FRS-1000B with a 48-mile range limit and the FRS-1000C open array, 6kW unit with a maximum range of 64 miles. As with all marine radar sets, operation at maximum range is pie in the sky because a target would have to be approximately 2,700 feet above the level of the vessel to be visible at 64 miles. Ability to discriminate among targets closely spaced in azimuth is one of the most significant differences among the radar options. Target discrimination in azimuth is largely determined by the antenna's horizontal beam width. The narrower the beam, the better, and the longer the antenna, the narrower the beam. The 1000A's radome-enclosed antenna provides a 4-degree beam width. The beam width of the 1000B's 39.3-inch open array antenna is 2.4 degrees. The 47.2-inch antenna of the 1000C provides a beam width of only 1.9 degrees. The two open-array radars are available with conventional 24 rpm rotation or 48 rpm rotation for use on fast vessels. An automatic radar plotter module (mini ARPA) is available for use with any of the 24 rpm rotation radars. This sub-system can automatically or manually acquire and track as many as 10 targets within the range of 0.1 to 16 miles. The system will keep track of each target's individual range, bearing, course and speed. A remote heading sensor must be fitted to use this worthwhile option. All the radar systems provide a full array of operational capabilities, including guard zones, target range and bearing determination, display offset, echo stretch and a choice of presentation mode: head-up, course-up, north-up or true motion. One or two remote display units can be connected to the processor unit and main display module. It is possible to control all radar functions from any of the displays. The colors used for display of data are operator selectable.
PLOTTER
The basic plotter function operates with or without reference to an external chart source. The system's two chart cartridge slots will accept Furuno Chart cards, Navionics chart cards or mini chart cards. Alternatively, a memory card may be used to store large amounts of data acquired during a voyage. The plotter display may be viewed in north-up, true motion; north-up, relative motion; head-up or course-up formats. All the expected cursor and display shifting capabilities are available. Track color and track-plotting interval is user selectable. A total of 3,800 track points and 3,800 marks can be stored in the internal memory. As much as 7.7 hours of track data is stored when the system is set to its default, 10-minute recording interval. Other time intervals may be specified or a distance interval programmed to trigger data recording. Programming data storage on the basis of distance conserves memory by ensuring no track information is stored when the vessel is stationary. The plotter function operates in conjunction with navigation information supplied from any of the three available GPS/DGPS antenna units (straight GPS [GPA-016], DGPS, E field [GPA-018S] or DGPS, H field [GPA-019S]). All the GPS receivers provide eight-channel parallel, eight-satellite tracking. Position update rate is one second. A total of 11 chart symbols are available for use in designating specific navigation features. When using Navionics charts, lighthouse and buoy data can be immediately displayed by placing the cursor on the navigation aid. User-assignable chart marks include seven shapes, four types of line construction and as many as seven colors, plus four event marks. The system will accept as many as 198 individual waypoints. Keeping track of waypoints is especially easy because there are as many as 15 available characters to describe each waypoint. As many as 20 routes, each composed of up to 30 waypoints, can be stored. The full array of navigation capabilities and alarms is available.
SOUNDER
The sonar display can be full screen, using either the 50 kHz or 200 kHz transducer, a dual display using both transducers simultaneously or a series of split displays combining normal sounder information with bottom zoom or bottom lock information. The sounder power output is 600 watts. The FRS-1000 can automatically program its sounder function, selecting optimum range, gain and clutter suppression level. The system's ability to display 50 kHz information (on the left half of the screen) and 200 kHz data (on the right) takes advantage of the very different beam widths of the two sonar frequencies. The low frequency covers a wide swath of the bottom, while the 200 kHz signal provides a detailed picture of a narrower area centered beneath the boat. A variable range marker feature allows any selected portion of the scanned depth between the VRM setting and the zoom range marker to occupy the entire height of the left side of the sonar display screen. As expected, the system includes bottom zoom, bottom lock and transducer depth offset capability. The transducer includes a water temperature sensor, with data display in digital form in the navigation data display or in graphical format in the sounder display area.
Navigation Information
Under most circumstances, the right one-fifth of the screen will be used to view either of the two navigation displays. The basic data set is composed of speed, course, heading, water temperature and depth. The more comprehensive data set includes GPS-derived time, latitude/longitude, speed, course, heading, waypoint number, range/bearing to waypoint, cross-track error, trip distance, time to go, estimated time of arrival, water temperature and depth, plus a series of message icons.
Data Recording/Playback
The FRS-1000 system can record data for subsequent playback and analysis. Removable memory cards are used to store data; however, chart information cannot be saved on the memory cards. Card capacity is sufficient to record the total data storage capacity of the FRS-1000's internal memory. The memory cards can be erased and reused and can be locked to prevent accidental data erasure. Prices start at $9,995.
Contact: Furuno U.S.A., (360) 834-9300; fax (360) 834-9400; www.furuno.com.