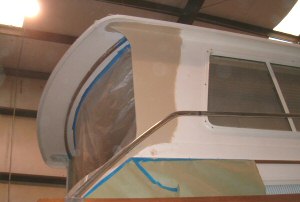 It seems a bit foolish to have a enclosed helm area with a totally open back. The owner of this Eastbay 43 wanted to enclose his helm area to be able to securely lock the boat and perhaps add some air conditioning at a later date. This is the kind of project we can sink our teeth into. We spent many hours planning and making mock ups for this project. The owners were offering thier input all through the process to make sure it fit all their requirements. On this boat we had previously done a
custom helm deck door
and this enclosure will incorporate that into it's design.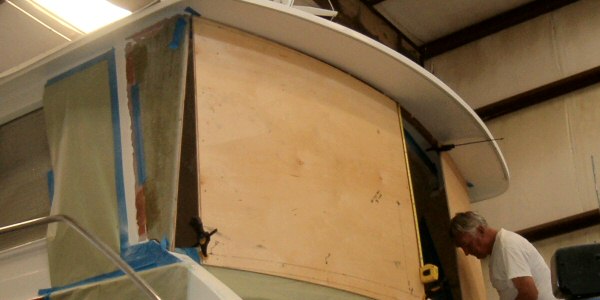 The enclosure itself will be all clear lexan and the opening at the helm deck door will slide on a track and when open will park itself out of the way. The material we are using is strong enough to work without any upright supports, creating a clear view out of the entire aft end of the boat. Since there is already a curve in the structure, we are having the whole panel follow the natural curve of the boat – creating a very stylish look.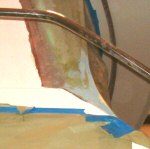 In order to have this work, we needed first to extend out the cabin side to cover the ends of the plastic. To avoid a boxy look, we added a bit of a curve. At this point, with our patterns made, we had our plastics contractor come in to do his measurements. He also had some input on ways to improve the look, the primary suggestion being to add a little bit more to the extension to cover the track ends. This actually improved the look of the extensions. The plastics company built the valences and we painted them to match the rest of the job.