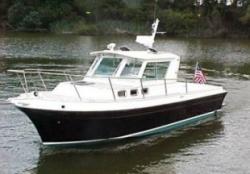 At one time we were the Chesapeake Area Albin dealers because we thought the boat was a good little bay boat. However, the Albin 28 was perceived as a fishing boat by most people. We do like fish, but our clients were more of the pleasure boat ilk. We decided to sell this boat in our area that we could start with a basic Albin 28 and enhance it to compete with more expensive boats. The most striking thing we did was add a mast to the boat. The mast did more than improve the looks of the boat – it held the electronics that usually got mounted on the cabin top. This gets the antennas up higher and eliminates holes that would need to be filled later if you changed the electronics. It also puts the anchor light up higher for maximum visibility.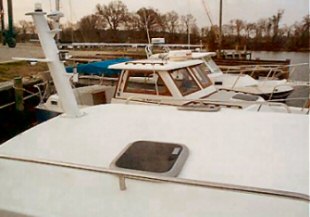 As we thought of what would make the boat more usable on the bay, we decided a couple of overhead hatches and some air conditioning would make the boat more comfortable and hence more desirable to our clientele. With the hatches we have not only added a bit more light into the helm area, but have created ventilation when the air conditioning is not being used. And speaking of ventilation, we added a lot of ventilation to this boat to prevent mildew and keep odors at bay. We ventilated lockers, added larger engine room vents and added ventilation to underused areas. When you keep mildew away, you are also keeping odors at bay. This model had an optional transom seat which was a nice feature except it came in with no floorboards. We added framing and a removable set of floor boards in this seat which added tons of extra storage – also very well ventilated to keep wet lines and life preservers mildew-free.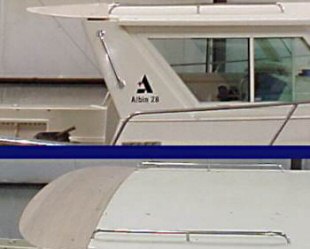 We did many other customizations to this particular model to meet customer requests and all made this boat something different than the actual perception of a "fishing boat".  Some where highly varnished, some had upgraded helm seating for long range cruising comfort, some had a canvas extension to the cabin top to create some shade. There are tons of modifications you can make to any boat to increase your enjoyment and to make the boat unique. Discuss your ideas with us and we can help you realize them.